A dog ramp for car, SUV or truck is an excellent way of getting your dog in and out of the vehicle without having to manually lift them.
There are many reasons that people use vehicle pet ramps, these include; if your pet is disabled due to old age or recovering from surgery, young, small or nervous dogs that may be unsure about jumping out of the vehicle, or if the owner (you) are suffering from back pain or are not physically strong enough to keep lifting the pet in and out of the vehicle.
Although the products below are marketed as a dog ramp for car and SUV's, most of them can also fit trucks and boats. The ramps can also be used indoors for Vet practices, Groomers, high beds, couches or stairs.
Listed below are what we believe to be four of the best dog ramps for car and SUV's. We chose these models due to the fact that they had great user reviews on various websites, feature different design aspects and have a wide price range.
Below the reviews are some tips on choosing the best dog ramps for car or SUV use.
---
4pets Easy Steps for Dogs
The 4pets Easy Steps for Dogs is a telescopic, lightweight dog ramp for car or SUV use that can be adjusted to any length from 27.51″ to 63″. The width of the ramp is 15.75″.
At just 11.9lbs the ramp is very easy to move around and can be extended and collapsed with one hand, leaving your other hand free to control your dog.
Due to the ramp being constructed from very high quality materials and having an internal honeycomb structure, it has a maximum weight limit of 220lbs, which is more than adequate for most dogs.
The ramp itself is manufactured from a tough, non-slip surface that provides a safe and secure footing for your pet whatever the weather. The ramp can be easily hand washed or hosed down as all parts are weather-proof. All four corners have non-slip rubber feet that not only stop the ramp sliding about they also protect the vehicle or boat from damage.
Dimensions: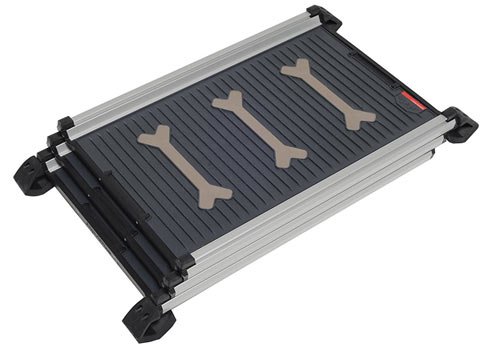 Extended Length: 63 inches
Compacted Length: 27.51 inches
Width: 15.75 inches
Walkway: 13.5 inches
Pros:
Can be used as a dog ramp for SUV or car
Lightweight, telescopic Design
Very high quality materials
Non slip, weather-proof surface
One-handed operation
Very Compact
Recommended by Vets and the WAO Team USA
Certified Safety and Quality by TÜV America/ TÜV SÜD Germany
Cons:
Price
Conclusion:
The 4pets Easy Steps is an excellent product that is manufactured from top quality materials and designed with both the user and pet in mind.
The one-handed operation makes this dog ramp very easy to use. Due to the light weight of the product, setting it up and folding it away takes literally seconds.
Despite being the highest priced ramp in our reviews, the 4pets dog ramp for car or SUV is an outstanding product that is highly recommended.
.
---
Gen7Pets Natural-Step Dog Ramp For Car, SUV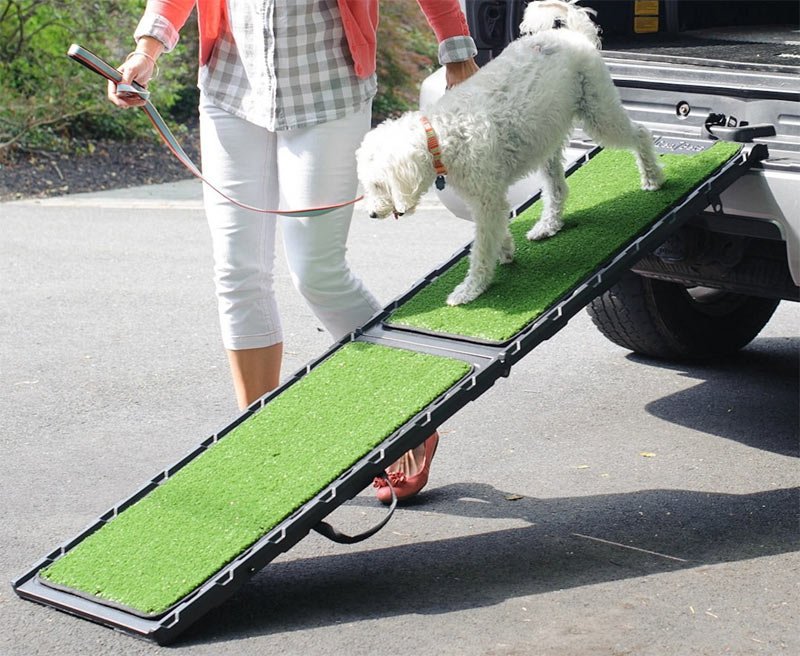 The Gen7Pets Natural Step is a sturdy product that has a fold open and close operation. When folded closed the ramp locks into position, allowing it to be easily moved with the built-in handle.
The folding dog ramp has a washable, Poly-Grass cover that is very durable, yet soft enough not to damage the dog's paws or scratch the interior of the vehicle when being stored away. Rubber pads on both ends help protect the vehicle from scratching and stop the ramp from slipping. Also included is a safety tether that attaches to the rear door latch.
Unfolding the ramp is a two handed operation, which may or may not be a problem, depending upon how active your pet is and how badly they want to get in and out of the vehicle. You may need to practice a few times folding and unfolding the ramp to figure out how to deploy it without trapping your fingers.
The ramp is 16″ wide with a walkway width of 13.75″, which, unless you have a very wide pet, is quite adequate.
Dimensions:
Open Dimensions: 72″ long x 16″ wide x 1.5″ thick
Folded Dimensions: 36″ long x 16″ wide x 3″ thick
Walking path: 13.75″ wide
Weight: 17lbs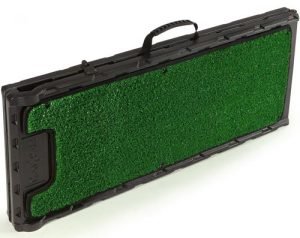 Weight Limit: 250lbs
Pros:
Replaceable Poly-Turf surface for easy grip
Automatic locking clip
Rubber grip handle for portability
Rubber pads on both ends help prevent slipping
Safety tether latch
Lightweight for easy movement
Cons:
Need to be cautious not to trap your fingers
Conclusion:
Ideal dog ramp for car and SUV's, the Gen7Pets Natural-Step Ramp for Pets is a well-made and durable product that is well designed. Overall, it is certainly one to consider.
.
---
PetSTEP Folding Dog Ramp for Car, SUV and Truck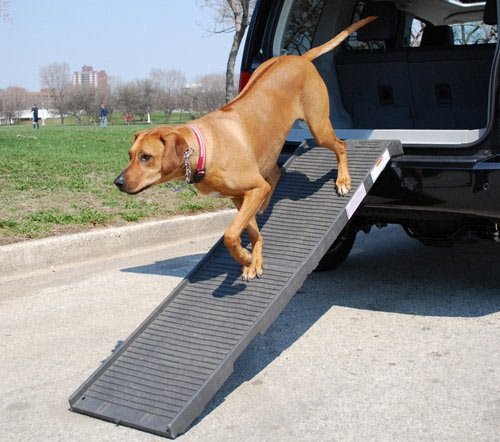 The PetSTEP Folding Pet Ramp for cars, SUV's and trucks features a non-slip, ridged surface that provides maximum traction for the pet, ensuring a safe passage into and out of the vehicle.
With a 15.5 inch wide walkway and a massive 400 Pounds weight limit, the ramp has been designed for dogs of all sizes and weights.
Constructed from a rigid and yet durable Fiberglass and plastic makes the ramp very strong. Although, at 18.5 Pounds, it is fairly heavy, which considering the heavy duty design, is only to be expected.
Rubber grippers at either end prevent any movement and protect the vehicle from damage. The ramp has cut-outs for easy transportation and to avoid any finger trapping accidents when folding it.
When folded, the ramp kept in the closed position with a coiled spring assembly, covered with plastic tubing. Overall, a very simple solution that works very well.
Dimensions:
Open: 70 L x 17 W x 2.5 H inches
Folded: 36 L x 17 W x 5.75 H inches
Walkway width: 15.5 inches
Weight: 18.5 Pounds
Weight Limit: 500 Pounds
Pros:
Very Strong and Durable
Closed Position Lock
Cut-outs for easy folding and Movement
High Traction, Non-slip Surface
Can be Used as a Dog Ramp for Car, Truck or SUV
Cons:
Quite Large & Bulky
Conclusion:
The PetSTEP Folding Pet Ramp for cars, SUV's and trucks is a very solid ramp that has some excellent design features. The rubber grip walkway provides good traction and can be washed down.
Overall, the PetSTEP ramp is a good, sturdy product and should near the top of your shortlist.
.
---
Solvit Deluxe Telescoping Pet Ramp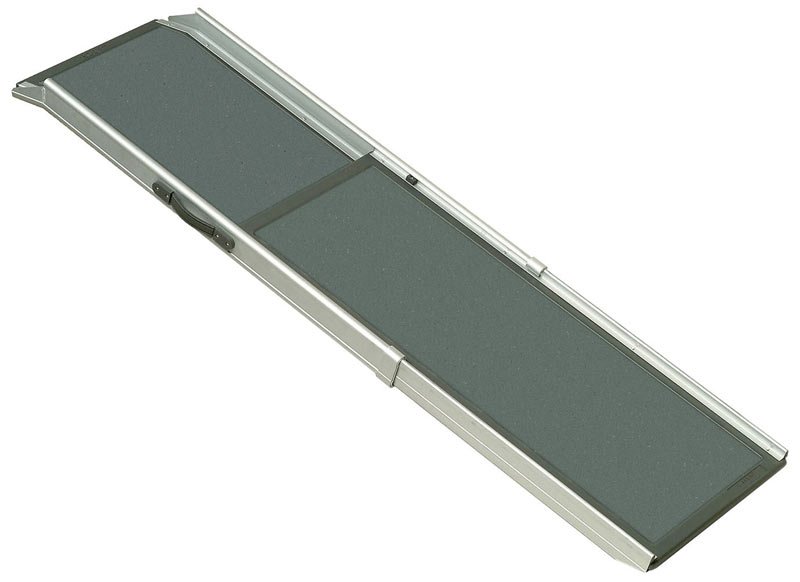 The Solvit Deluxe Telescoping Pet Ramp for car or SUV is a heavy duty product that extends from 47″ to 87″, which is the longest ramp in our reviews. The benefits of having a long ramp are that they can be used on higher vehicles and it reduces the angle on lower vehicles, however, on the downside, it also means you will need more storage space, and it may not fit inside some smaller vehicles.
A sandpaper type of surface on the ramp provides maximum traction and reduces the possibility of slipping. Although, some reviewers have reported that their pet did not like the texture and would not walk on it. If you do find this to be the case there is an easy fix which involves gluing a rubber mat or outdoor carpet to the surfaces.
Having a maximum weight capacity of 300lbs and a walkway width of 15″ makes the product suitable for most large dogs.
The Solvit Deluxe has a carry handle, which, considering the ramp weighs close to 20lbs, is a very welcome addition. Keeping the ramp closed is a strap and press-stud that must be clicked into position to prevent accidental opening.
Four rubber feet at each end of the ramp prevent it from moving and prevent any damage or scratches to the vehicle. A side door adapter is also available as an optional extra.
Dimensions:
Product dimensions:  47-87 inches long x 20 inches wide x 4 inches high
The width of the tread material is 15 inches
Weight: 19lbs (Approx)
Weight Limit: 300lbs
Pros:
Long Length
15 inch Walkway
Rubber Feet
Side Door Adapter (not included)
300lbs Weight Limit
Cons:
No Automatic Locking
Quite Large
Sandpaper Textured Walkway (may or may not be a problem)
Conclusion:
The Solvit Deluxe Telescoping Pet Ramp for car or SUV is a very sturdy product that is ideal for small, medium and very large dogs.
Despite the size and weight, with a bit of practice, it is very easy to set-up and pack away. Also, the availability of a "Side Door Adapter" makes it a very versatile product that is well worth a look.
.
---
Dog Ramp for SUV, Car or Truck – buying guide
Before buying a pet ramp it is important to identify the type, and size you need. Choosing a ramp that will not comfortably fit into your vehicle or one that is not long enough will not only waste your money it will also be a big waste of time.
Listed below are a few points to consider when choosing a dog ramp for car or SUV.
Weight Limit
Length
Folded Dimensions
Walkway width and Texture
Ease of use
Weight Limit:
It is very important to always adhere to the manufacturers weight limit. Overloading the ramp may cause damage to the product and eventual collapse, which may also cause serious injury to your pet.
Length:
Pet ramps vary in length from product to product. Having a longer ramp reduces the angle and makes it easier for your pet to climb, which is especially true if you have a high vehicle.  The downsides to having a long ramp are that you will need more storage space inside the vehicle, and the product will probably weigh more too.
One way to decide if the chosen ramp will sit at an angle that will be comfortable for your pet is to either use a tape measure or cut a board to the same length as the product and position it where the ramp will sit.
Folded Dimensions:
If you have a large SUV, the folded dimensions may not be a concern, however, if you have a smaller vehicle it is well worth checking the folded dimensions of the product to make sure it will fit.
Walkway Width:
For large dogs it is important that the ramp walkway is plenty wide enough to accommodate them. Measure the width to the outsides of the dog's paws, and add a few inches to give them room to manoeuvre, this is particularly important if the pet does not walk well.
Walkway Texture:
Different manufacturer's use a variety of walkway materials with differing textures, these include; Poly-Grass and Rubber with raised either raised grippers or a Sandpaper texture.
If you have a large dog that is unsteady on its feet, the Sandpaper textured ramps would not be a good choice as the rough surface could possibly damage the pet's paws.
Some pets can be very leery about the type of surface they feel comfortable on, especially if going up and down a steep ramp. Unfortunately, you won't know if your pet will like the surface until after you have purchased the product, although, if your pet does not like the texture, the ramp can be re-covered with artificial grass, textured rubber or outdoor carpet.
Ease of use:
Large ramps can be very heavy and unwieldy, so, before buying, check the weight of the product and read the Amazon reviews to assess if any reviewers have had any problems moving and setting-up the ramp.
Leave the pet indoors and practice setting-up the ramp, after a bit of trial and error you will find an easy way to deploy and fold/slide it away.
So, to recap;
Check the weight limit of the dog ramp
Determine the length of ramp you require
Measure the area inside the vehicle where you plan to store the ramp
Make sure the walkway will be wide enough
Check the user reviews on Amazon
I hope this dog ramp for car or SUV article has helped you to find the perfect product for both you and your pet. Remember to take your time, read the reviews and if you have any questions, post them on Amazon.