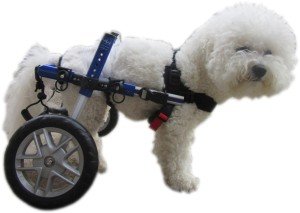 A dog wheelchair assists in reducing the pain of the stricken pet and gives them the opportunity to lead a normal life again. Not only do these devices allow your pet to get about, unlike a pet stroller, they also offer the essential exercise that all pets need.
Pets can experience a disability due to a variety of reasons, for example: Hip and elbow dysplasia, Arthritis, Back injury and disc damage. Any pet can develop a disability that can affect its ability to walk, and it can be very upsetting to see your pet suffering and immobile.
There are many different types of mobility devices for all sizes of dogs. The equipment ranges from slings and harnesses to the four wheeled wheelchairs  for dogs that can cater for even the most severe of disabilities.
How to choose a dog wheelchair
Choosing the correct wheelchair for your pet can make the difference between a happy pooch that can't wait to go for a walk, and one that dreads having to wear an ill-fitting device that causes pain and is difficult to pull.
There are many canine wheelchair makes and models all over the internet, but, choosing one that is not fully adjustable in every direction could see you wasting your money and put your dog's health at risk.
What price to put on your pets health and happiness? Only you can decide that.
Weight of the Dog Wheelchair
Choosing a lightweight dog wheelchair is essential to prevent further injury and allow your pet to easily pull the dog cart around. Lighter models are usually manufactured from aluminum and are designed to allow the pet to run around, turn and stop without even realizing they have a device attached.
Heavy dog wheelchairs will not only tire the pet, they can cause injuries such as strains and pulled muscles to the front legs and back. Movement will also be restricted, and the strain of getting it rolling and stopping could have a negative effect, not only on your dog's health but also on its willingness to use the device.
Adjustability
The dog wheelchair you choose should be fully adjustable to allow for weight gain/loss and growth. If you have an adult dog, the growth aspect may not be a concern, however, if your pet is not fully grown, you will need to adjust the wheelchair as it gets bigger, not only in width and length, but also in height.
Poorly fitting and badly designed dog wheelchairs will put your dog's health at risk and could result in a serious injury to the pet. So, it is always better to buy a quality dog cart that is well designed, built to last and fully adjustable.
A folding dog cart is another feature to take into account. If you have a large pet, the ability to fold the chair up allows for easy transportation and storage.
Comfort
Comfort is a major factor when choosing a dog wheelchair. If the device is not comfortable, the pet will not look forward to using it. The device should have an underbelly sling and harness that supports and secures the pet, while at the same time allowing your dog to do its business.
There are plenty of dog mobility equipment manufacturers out there and choosing the right one is absolutely essential if you value the safety of your pet. As with the pet strollers, you do get what you pay for in terms of quality, design and customer support. The only manufacturer that Furwheels.com recommends is Walkin' Wheels™ that are a part of the HandicappedPets.com™ group. The equipment is manufactured to a very high standard and the innovative design, is without a doubt, first class.
The disadvantages of custom made dog wheelchairs:
There are a few manufacturers that will supply a custom made wheelchair to precisely fit your pet. However, if you take a look at the amount of measurements these manufacturers require, you will soon start to understand how complicated this whole process can be, and just one wrong measurement can see you not only wasting your money but also causing discomfort to your pet due to an ill fitting wheelchair.
Another issue arises if the health of the dog gets better or worse, or if the dog is still growing, as the equipment is often difficult or impossible to adjust. The custom build doggy wheelchairs are built for one particular dog which means that when your pet no longer needs the device, there is often little or no resale value attached to it.
The advantages of a Walkin' Wheels™ pet mobility wheelchair:
After listening to customer feedback, Walkin' Wheels™ have constantly improved the design of the pet mobility wheelchair. The result is an award winning product that requires no complex measurements and can be easily adjusted to suit the height, length and width of your pet.
Features:
Push button adjustment for height, length and width
Can be adjusted to cope with your dogs changing health condition
Perfect for dogs that are still growing
No complex measurements
Veterinarian approved
Small, Medium & large sizes
Fold flat for easy transportation and storage
Outstanding build quality and design
All spare parts are available
Same day shipping
Excellent customer support
Online community for advice and support
Instruction book, DVD, and call-in support with every order
Holds a high resale value
Mini dog wheelchair – fits small dogs from 8 lbs to 25 lbs.
---
Medium dog wheelchair – fits dogs from 25 to 69 lbs.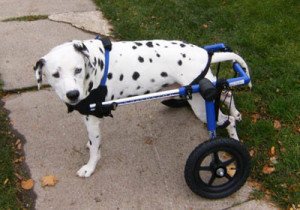 ---
Large dog wheelchair – fits dogs 70 lbs to 150 lbs.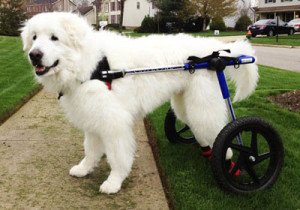 Full Support – four wheel Dog Wheelchair
The full support four wheeled wheelchair, or as it is sometimes called the "quad wheelchair", has been designed to assist dogs that can still use their legs but cannot support their full weight. The Walkin' Wheels™ four wheeled version is now used in many animal hospitals and clinics.
The four wheeled version is available in mini, medium and large sizes.
Mini 4 Wheel
Medium 4 Wheel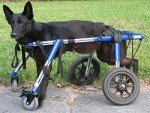 Large 4 Wheel
Front wheels are also available separately for those that already own a two wheeled Walkin' Wheels™ pet wheelchair and want to turn it into a four wheeled quad wheelchair. They are available for all sizes, mini, medium and large. Interchangeable snap-in wheels and struts are all that is needed to adjust the Walkin' Wheels for the different dog size categories.
To get an instant price or for more information on Wheelchairs for dogs check out the Walkin' Wheels™ Range.
Disabled Pets