Even if you are experienced in towing a bike trailer it doesn't hurt to remind yourself of the safety
aspects associated with the pet bicycle trailer, after all, you will be carrying the most precious of cargos.
Modern pet bicycle trailers are built to be stable and comfortable for your pet, however it doesn't matter how well built and well designed the trailer is, if the bike rider fails to observe the basic rules of towing, the trailer can potentially become an accident waiting to happen.
Below are a few safety tips that should be observed before and when towing a pet trailer. Even if you are a seasoned, trailer towing, bike rider there may be some points that you have forgotten or become complacent about.
The towing bicycle:
The towing bike should ideally have a rear mounted kickstand to support the bike in a semi-upright position when loading and unloading the pet. Another accessory that you may want to consider is a rear view mirror, allowing you to view your dog and the traffic that is approaching from the rear.
A long rear fender (mudguard) will protect your pet from the possibility of stones and dirt being thrown up by the rear tire and will also help to prevent the interior of the trailer from getting soiled.
Using a bicycle with multiple gears will make it easier for you when pulling off from a standing start, climbing hills and riding against a headwind.
The towing bike needs to have two, effective, individually operated brakes which are in good working order and operate efficiently in wet weather. This is extremely important, due to the fact that the braking system needs to be capable of stopping the bike with the extra weight of the pet and trailer.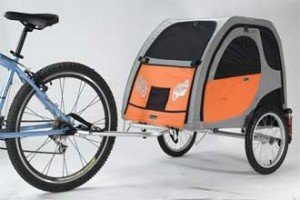 Before taking your pet out for its first trip:
Make sure the pet is comfortable with getting in and out of the trailer. We have a post that explains how to train your pet to use a pet bike trailer.
If this is your first pet bicycle trailer, take it out for a ride empty. After all, why burden yourself with the extra weight and upset the pet when you are learning to handle the trailer. If you do want to simulate pulling a loaded trailer, weigh your pet and add the approximate same weight cargo to the trailer.
Before taking the trailer out for the first time, carrying out a pre-ride check on both the towing bike and the trailer is always a good idea and should include tire pressures, tire condition, hitch condition and tightness of all mounting bolts.
Furwheels.com
Pet bicycle trailer safety tips:
To give your pet a smooth ride and avoid damage to the trailer try to avoid pot holes rough ground and uneven terrain when out and about. The last thing you want to do is put your pet off getting into the trailer by bouncing it about.
Most modern pet bicycle trailers have an internal leash to secure the pet when in transit. Make sure you get into the habit of using it before starting your journey, this is especially important if your pet has a nervous or aggressive disposition.
When pulling a bike trailer remember to keep in mind the difference in both balance and momentum. When going downhill the momentum will be far greater with a trailer attached and will take longer to stop.
Pulling off from a standing start and crossing a road will take significantly longer due to the extra weight of the trailer and your precious cargo.
Consider the length of the pet trailer. When going round corners make sure to leave enough room to get the trailer round without mounting the curb.
If your trailer was supplied with a flag and reflectors, use them. The more visible you are the better. If the trailer didn't come with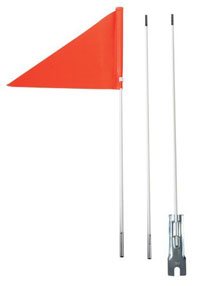 these accessories they are available on the net.
If riding at night, dusk or dawn, use lights to make yourself visible to other road users. LED lights are very inexpensive and have a long battery life.
Never overload the trailer. Always adhere to the maximum manufacturers weight limit. It is after all put there for a reason. Some manufacturers also have a recommended speed limit and this should also be strictly observed.
Be aware of the trailers width. Spaces that the bike can fit through may not be wide enough for the trailer. So, instead of trying to ride through, dismount and make sure the trailer will fit.
Never use the trailer to transport children. Dog trailers are not designed to carry humans and could be potentially dangerous if used to do so.
Wear a safety helmet and reflective vest or coat when out riding.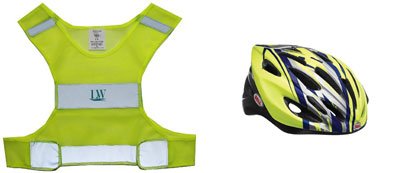 Most importantly, take it easy! You have to learn to ride in trailer mode, steadily, slowly and with consideration for your pet. On your first few outings you may forget that you have the trailer attached especially when riding on flat ground or downhill. However, after a while, towing a trailer will become second nature and you will automatically adjust your riding style to accommodate the extra weight, dimensions and balance differences.
Happy Towing !