The Booyah medium dog bike trailer stroller certainly does offer some advantages over some of its competitors. Such as; rear shock absorbers, included stroller conversion kit and air filled tires.
In this review we will be covering the medium size pet bike trailer and stroller.
Features: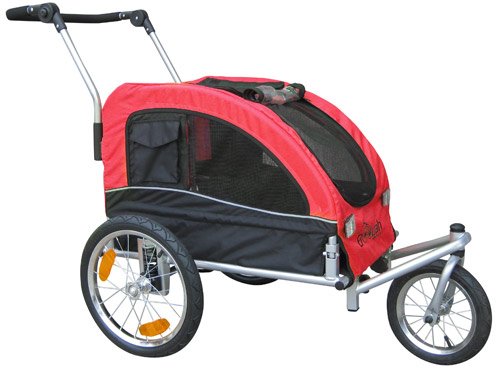 Rear wheel suspension
Included stroller conversion kit
Swivel front wheel
Included bike hitch
Air filled tires
Rear wheel brake
Front & rear reflectors
Safety flag
Specs:
Wheels:  16 inch rear wheels and 12 inch front wheel
Weight Limit: 60 Lbs
Weight: As a trailer – 28lbs. As a stroller – 31 Lbs
Pet cabin dimensions:  26 inches L x 18 inches W x 18 inches H
Exterior dimensions: 46 inches L x 26 inches W x 37 inches H
Build Quality & Design:
The build quality of the Booyah is mainly on par with the other trailers and strollers in this price range, however, the one thing that does make this product stand out from the rest is the rear shock absorbers, yes, some other strollers do have them, but they are usually the more expensive models.  Another addition that is normally sold separately is the stroller conversion kit, which is included as part of the package.
Size and Weight:
The Booyah Medium Dog Bike Trailer Stroller is fairly small and as such you should not only weigh your pet, you should also measure it as well. The manufacturers do state that the product can take up to 60 Lbs, but a realistic weight to size ratio would be closer to a maximum of 35 – 40 Lbs. So, check your pet's size against the cabin dimensions listed above.
With a weight of 28lbs as a trailer and 31 Lbs as a stroller, the Booyah is on par with most of the other trailer stroller products on the market.
Entry System and Canopy:
The main entry is at the rear of the stroller/trailer. There is also a front/top opening that has a rollback mesh and clear weather screen. When rolled completely back it gives the pet an unobstructed front view and also allows your pet to poke its head out of the top. The sides and rear have mesh screens that provide the pet with ample ventilation and visibility.
There are pockets on either side of the canopy that enable you to store small items.
Inside the trailer/stroller:
The inside of the pet cabin of the Booyah Medium Dog Bike Trailer Stroller has a washable padded mat. The mat is quite this so you may need to put in some extra padding.
There is also a tether connection point to secure a leash to, which is great if you have an escape artist or nervous pet.
Wheels:
When you combine the 16 inch, air filled rear wheels with the 12 inch front wheel (stroller mode) and the rear suspension it all adds up to a very smooth ride, even over semi-rough terrain.
There is a hand operated, rear wheel brake.
Towing Hitch:
The industry standard hitch will fit most bikes and is simple to install.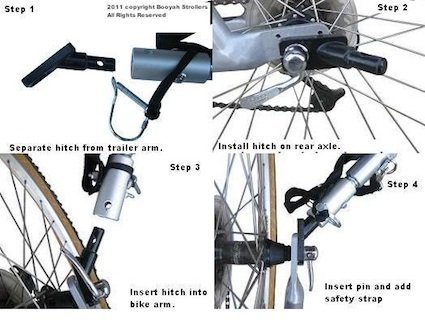 Building the Trailer:
Even though the instructions are very poor, building the trailer/stroller is very simple, as is the construction of the stroller wheel assembly.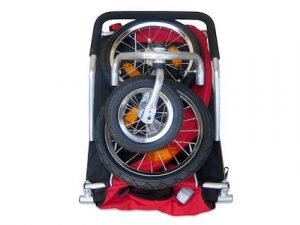 Folding the Trailer
The folding procedure is a simple reversal of the building process, without the need to disassemble the stroller wheel. All very simple and no tools required.
Converting the Trailer to a Stroller:
After building the front wheel assembly, you can then use the product as a stroller or trailer by folding the tow bar under the trailer and connecting the stroller wheel assembly. Once again, no tools are required.
Conclusion:
The Booyah Medium Dog Bike Trailer Stroller is a competent little machine that should provide a long and trouble free towing or pushing experience.
However, there was one point that made me slightly uneasy, and that was the lack of spares available. If you go to the Booyah website and click on "parts" http://www.booyahstrollers.com/parts/ you will see that there are none listed. Also, if you click on "about us" http://www.booyahstrollers.com/about-us/ there is also no content, which is all a little bit disconcerting.
I know that Booyah are importers of generic strollers from China and not manufacturers, but I would have thought they could offer spares for the products they sell.
Update 8/12/2016: The website now contains "about us" information and also states on the "parts" page; "Due to the fact that we do not know exactly what the customer needs nor (for shipping cost purposes) know there location.  We asked that you contact us telling use what you need and providing pictures if possible. Once we know what you need and where it is going we can then pack it, weigh it and calculate the shipping cost".