Welcome to our site. Our aim is to provide informative pet stroller reviews and information regarding the best pet strollers on the market.
The pros and cons of each stroller are listed so you can quickly determine if the product will suit your particular requirements.
If you are unsure what features to look for, take a look at our pet stroller buying guide below, it should give you a good starting point to determine the type of stroller that will suit your pet.
If you are searching for a dog wheelchair for your disabled pet, we highly recommend the Walkin' Wheels™ range of disabled pet products. The innovative design and quality construction make them our number one choice for disabled pet wheelchairs.
==> Important ==> Before reading any pet stroller reviews you should measure and weigh your pet. The manufacturer may state a maximum weight limit, but all pets are different sizes and two pets that weigh the same could be totally different dimensions. Buying a stroller without measuring your pet could mean it will be squashed into a space that is way too small for it.
Looking for the best value for money pet stroller that can be converted into a pet bike trailer?
Look no further. We have found the perfect product for you! Take a look at our review of the best value for money stroller/trailer on the market.
How to find the best pet stroller
Hopefully, the following guide and our pet stroller reviews will help you to find the best pet stroller for your particular furry friend.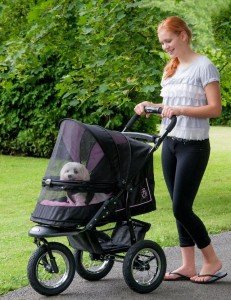 Once considered to be a fashion accessory for the eccentric pet owner, pet strollers are now seen as a practical way to easily transport both cats and dogs.
So why would anyone need to take their pet for a walk in a stroller? There are many reasons that strollers are used to transport the family pet, these include:
Illness, Surgery, and Old Age:
If the animal is recovering from an illness or has had a surgical procedure, a dog stroller will still let the pet get out into the fresh air but will reduce excessive stress on the affected area. Even if your pet is suffering from an age related problem such as arthritis or hip dysplasia, has a problem walking or cannot walk as far as you would like to go, a pet stroller is the ideal solution.
Stress and Anxiety:
Some pets can get very anxious and panicky when being taken out in public or meeting other animals, so what better way to relieve that stress than for them to have their own safe environment that they feel protected and relaxed in. Even if you just use the stroller to transport the pet to and from their favorite walking area, the stress reduction will have a massive impact on the health and well being of the animal.
Pet Stroller Choices: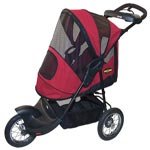 With pet strollers becoming increasingly popular there are now a massive array of models, sizes and designs available. There are also large dog strollers, medium dog stroller's small dog stroller's and cat stroller's, then the choices get even more confusing when you add price, safety features, design and build quality into the equation.
So which one should you choose?
Just by asking yourself some simple questions, taking a few measurements and weighing your pet, you can easily narrow down your choices to three or four possible pet strollers.
Function:
The functionality of the stroller is one of the most fundamental things to consider. What are you going to be using the stroller for?
Will you be just using it to take short walks? Do you need a dog jogging stroller that will handle the additional wear and tear? Will you need to fold it down to fit into a vehicle or to store it away? Does the stroller need to have storage space for your shopping or the pets accessories, such as treats, water bowls, toys etc.
Weight limit:
Different models have different weight limits and overloading the stroller could see it falling to bits prematurely. If you have a heavy pet, read the Amazon pet stroller reviews before purchasing a stroller, as many manufacturers tend to overestimate the maximum weight limit.
If you have a young dog that is still growing you should estimate the size and weight of the animal when it is fully grown. This will avoid having to purchase two or more strollers for the same dog.
Appearance:
This is mainly a personal preference, but if you do want to pamper your pet and look cool at the same time then this may be an important aspect for you to consider.
Admittedly, some pet strollers do look like a giant shoe box on wheels whilst others look like a customized car with all the accessories, however, those extras and looks may cost you more money and only you can decide if the extra cost is worth it.
Price:
As with anything, you do get what you pay for in terms of quality and design. Just lately there are a lot of cheap pet strollers flooding the market, these strollers are built with inferior parts and will soon break down.
The best way to determine the quality of a particular product is to read the real user, pet stroller reviews and on Amazon.
The best place to buy the stroller from? 100% Amazon, they have free delivery, will offer a refund on any item that is damaged or defective and have some of the cheapest prices on the internet.
Handle Height:
One of the most important considerations and the one that most people forget about when reading the pet stroller reviews is the height and outward projection of the handle. If the handle is too close to the stroller or too low, you may be kicking the wheels as you walk. This is particularly important if you are a fast walker or if you plan to jog with the stroller. Once again, read the Amazon reviews to see if any buyers have had issues with the handle height and projection.
Tires and Wheels: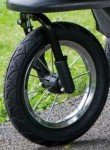 If you plan to jog with the stroller or use it on uneven ground, the best tire to go for is the pneumatic or air filled type. The advantage of these types of tire is that they provide a much smoother ride for your pet. On the downside, the pneumatic tires do require some maintenance in terms of ensuring that they have the correct pressure and repairing possible punctures.
EVA (ethylene vinyl acetate) tires are the most popular type used on strollers. The advantage of these types of tires is that they are very light, never puncture and require little or no maintenance. However, they offer very little shock absorbing and would be better used on even ground.
The front-wheel or wheels can either be fixed, swivel, or fixed and swivel. Fixed wheel strollers are best for jogging and off-road as it can be quite difficult to control the steering of a swivel wheel when going at speed or over bumpy terrain. Swivel wheel strollers are good for even surfaces such as sidewalks and shopping malls. The swivel wheel allows for tight turns and offers much more maneuverability.
Many strollers now offer the ability to lock the wheels into a fixed position and unlock them into a swivel operation, giving you the best of both worlds.
Safety Features:
Yet another feature you should take into account is the safety of your pet. If your furry friend is of the nervous type or is aggressive towards other animals, the ability to secure the pet inside the stroller is essential. The last thing you want is the pet jumping out and running off without a leash. So, look for a stroller that has a tether that you can connect to the pet's collar.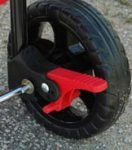 Another safety feature that you should look out for when scanning the pet stroller reviews is a parking brake. This will keep the stroller stable when loading and unloading your pet. The brake is also useful when stopping to take a rest.
Other things to bear in mind:
Can you open and close the canopy with ease? Is there a storage area for doggie snacks, toys, or shopping? Does it have a cover for sunshade or just a mesh cover to help keep insects out? Is the height and angle of the handle correct for your stature, and can it be adjusted if necessary? Does it have a sewn-in ring for securing your pet's leash to? Does it come with a rain canopy or cover? Will it fold down easily?
So, now you should know what to look for and where to look. Once again, read the Amazon pet stroller reviews to find the best pet stroller for your particular needs and requirements.