Prior to buying any type of stroller for your pet, you need to research your options. One of the main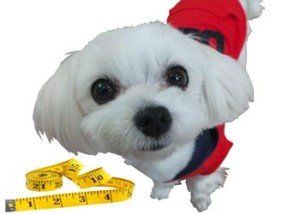 considerations to take into account is the size and weight of the pet. Different makes and models of pet strollers feature a wide variety of weight limits and internal dimensions, and choosing one that is too small will restrict and confine your pet to an uncomfortable travelling position.
So, it makes sense to learn how to measure and weigh your dog to make it as comfortable as possible. If you are going to be using the stroller for carrying more than one dog make sure you measure each one and give them plenty of room to move around.
How to Measure and Weigh Your Dog – The Easy Way
Height:
The fact is the dog is not going to lie down quietly every time you take it out in the stroller. Dogs are very inquisitive animals and like to know what's going on around them, and as such they will often lie down, sit and stand throughout a journey. So, make sure to measure your dog's height and allow 5 – 6 inches above this to ensure there is plenty of room for the dog to stand up, this is particuarly important if you are looking for a pet jogging stroller that you will be using on rough terrain.
If you have a puppy, you should try and determine the size it will grow to as an adult, this will save you buying another stroller when the dog outgrows the original one. Just by searching the internet for the breed you can quickly determine the average height of the fully grown dog.
Length:
The length of your dog is another important aspect to take into consideration. Many people suggest measuring your dog from the chest to the hindquarters; however, this does not take into account the dog's head that sticks out in front of the chest. Measuring the length of your dog from its nose to the hindquarters will give your pet enough room to get into a comfortable position. Always add a few inches on to the length to allow the dog plenty of room to move around.
Width:
You may think that the width of a stroller is not important, but some dogs do like to lie on their side, especially if they have a disease such as Arthritis or Hip dysplasia. So if this is the case, measure them when lying on their side.
Weight of the Dog:
The weight limit of a particular stroller should not be confused with the dimensions of the cabin. For example, just because the maximum weight limit of a stroller states 70 Lbs and your dog weighs 60 Lbs it doesn't mean that your dog will fit inside the cabin. The weight limit of a pet stroller is just what it says, a weight limit, it has nothing to do with the size of the cabin.
If you have a puppy or young dog you need to consider the weight it will be when fully grown. We have a handy chart that will calculate the fully grown weight of a puppy, and although it is only a rough guide, it will give you some idea of the adult weight.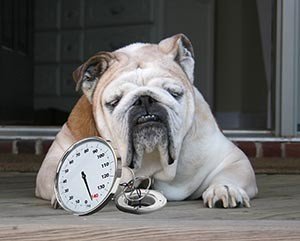 What Scales?
Weighing your dog:
Below is a simple example of how to weigh your dog
1. Weigh yourself = 171 Lbs
2. Weigh Yourself While Holding the dog = 206 Lbs
3. Subtract your weight from the weight of you holding the dog, eg: 206 – 171 = 35 Lbs (the weight of your dog) If the dog is too large or too heavy to pick up, take it to your local vets and have it weighed.
Some manufacturers will overestimate the maximum weight limit of their dog strollers. The best way to determine if stroller will take your dogs weight is to read the Amazon reviews. These reviews are by people who have actually purchased the product, they are not trying to sell you the product they are leaving genuine and often informative feedback.
If you are looking for an off road or pet jogger, we have an article about pet jogging strollers that will walk you through (no pun intended) all of the available options when choosing the perfect pet jogging stroller for your cat or dog.