There are literally hundreds of dog strollers for small dogs on the market, all with different specifications, sizes and weight limits,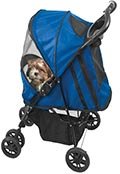 so which dog stroller for your small pet should you choose?
So what's the difference between the small dog stroller and a cat stroller? The answer…. Nothing!
All of the dog strollers featured below can be used for cats, rabbits, small pigs and many other small animals as well. If you are planning to use the stroller for more than one animal you should measure and weigh your pets to make sure they will have enough room when inside the stroller. Take note of the cabin dimensions of the stroller and compare them against your pet's measurements and weight.
Why use Dog Strollers for Small Dogs?
There are many reasons that dog (and cat) owners use a stroller to transport their pets. The main one is due to the fact that small dogs tend to tire quicker than large dogs when on long walks. The ideal solution to this problem is a pet stroller. You can walk your pet until it gets tired and then put the pet into the stroller for the return journey.
Many small dog owners use a stroller to transport their pet to and from the walking area out of fear that the pet may be attacked by larger dogs, their pet may attack other dogs or the dog is nervous near traffic and pedestrians. Whatever the case, it is one way of ensuring your pet will be safely and securely transported.
Certain breeds of small dog can also benefit from a stroller. Brachycephalic breeds such as Pugs, Shihtzus, Chihuahuas, Chow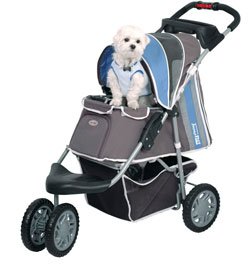 Chows, Pekingese, Lhasa Apso, Bull Mastiffs, and English Toy Spaniels all have shortened heads which can lead to breathing problems, especially when exercising.
Another scenario that many pet owners face is that the pet is recovering from illness or surgery. The ideal solution for both small and large dogs is a stroller. It will give them a real boost to get out into the open air instead of being stuck indoors.
Small dogs are even more agile than large or medium size dogs, so always ensure you use the internal leash ring to secure your pet and reduce the risk of accidental escapes.
Dog strollers for small dogs can also be used to transport puppies, not only sheltering their young skin from harmful UV rays, but also protecting them from nasty insects, bad weather, other pets and contagious canine diseases.
Most pet strollers come with an under seat storage area that is ideal for pet essentials or if you need to pick up some light shopping and want to take your pet with you. Some strollers even have extra storage pockets and cup holders.
The modern dog stroller is also an ideal sleeping compartment that enables very young pets, those suffering from an illness and ageing dogs and to relax on the way to a walking area, which means they won't get tired before you have reached your destination or on the way home.
Small pet jogging stroller
Using a pet jogging stroller to transport your pet will not only get your dog out into the open air, it also has the added advantage of keeping you fit too. It doesn't matter if you are a regular runner or you are just starting out, you and your pet can both benefit.
The small dog jogging stroller will allow you to run at your own pace and not have to wait for your pet to catch up with you. If you plan your route to include a park or open area, you can jog to the space, let your dog have a run around and then jog home.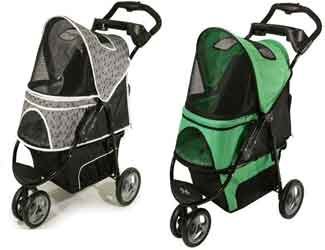 Buying dog strollers for small dogs can be a bit of a minefield, so to ensure you get the correct one to fit your needs you first need to establish your requirements and match them against the available strollers. Our homepage post has an article covering everything you need to look for when buying a small pet stroller, and listed below are out top picks for dog strollers for small dogs.
If you are looking for a dog trailer for small dogs, there are lots to choose from. You can view our dog trailer reviews here, and the comparison charts here.
Why buy a small pet stroller when you can buy a large one? Listed below are the advantages and disadvantages:
Advantages of buying a large pet stroller;
There is plenty of room for your pet or pets in a large stroller.
Large pet strollers are often built sturdier using better quality parts due to the extra weight capacity.
Disadvantages of buying a large pet stroller;
They often cost more than small pet strollers.
They weigh more due to the robust parts.
The large strollers are not as easy to fold and take up more storage space.
A large cabin area can make a small pet feel exposed and nervous.
Our Top Dog Strollers for Small Dogs (and cats)
| | Pet Gear Happy Trails Pet Stroller | Gen7Pets Regal Pet Stroller | Best Pet 3 Wheel Pet Dog Cat Stroller | Confidence Deluxe Four Wheel Stroller | OxGord Cat Dog 3 Wheel Jogger |
| --- | --- | --- | --- | --- | --- |
| | | | | | |
| Weight Limit | 30 Pounds | 25 Pounds | 30 Pounds | 25 Pounds | 25 Pounds |
| External Size | 34″ long x 18″ wide x40″ high | 38″ long x 17″ wide x 38″ high | 33″ long x 14.5″ Wide x 38.5″ High | 32″ long x 17.5″ Wide x 38.5″ High | 32″ long x 17.5″ Wide x 38.5″ High |
| Internal Size | 24″ long x 12″ wide x 23″ high | 22″ long x 11″ wide x 21.5″ high | 21″ long x 13.5″ wide x 20″ high | 22″ long x 11″ Wide x 20.5″ High | 22″ long x 11″ Wide x 20.5″ High |
| Weight | 13 Pounds | 11.5 Pounds | 13 Pounds | 10.6 Pounds | 11.8 Pounds |
| Tires | EVA/Plastic | EVA/Plastic | EVA/Plastic | EVA/Plastic | EVA/Plastic |
| Wheel Size | 8″ | 6.5″ | 6″ | 6″ Front – 8″ Rear | 5.75″ Front 7.75″ Rear |
| Price | Amazon | Amazon | Amazon | Amazon | Amazon |
How to Buy a Small Dog Stroller
If you're shopping for dog strollers for small dogs, there are a few details you'll want to pay attention to. This includes the weight capacity of the stroller, along with other factors.
Choosing a dog stroller is similar to shopping for a baby stroller. You will want to think about how you'll use the stroller. Here's a closer look at the main considerations when buying a dog stroller for small dogs:
Weight capacity
Intended use of the stroller
The type of terrain
Safety features
Comfort level
Weight Capacity for Puppy Strollers
You need to know how much your dog weighs. You can stand on a scale with and without your dog to estimate the weight. Use this estimate to compare the weight capacity of small dog strollers.
The height of your dog could also impact your buying decision. Measure your dog from the floor to the top of their head. When you browse for a dog stroller for small dogs, you may see the height capacity listed next to the weight capacity.
Intended Use of the Pet Stroller
Next, think about how you intend to use the stroller. Do you want a dog stroller for small dogs so that you can go jogging? Or, do you plan on going for leisurely strolls?
If you plan on going jogging, you will want a jogging stroller. These strollers typically have 2 wheels in the back and one in the front.
For traveling on rough terrain, look for a dog stroller for small dogs that is made to handle the bumps. They will have additional shocks in the wheels.
Look at the Safety Features of the Stroller
You should also look at the safety features of the pet stroller. The jogging stroller should have a wheel-lock to keep the front-wheel moving forward.
Other safety features may include a tether or safety belt. You can secure your dog in place so that they can't jump out of the stroller. A parking brake can also be useful when you need to stop to rest for a minute.
Also, look at the special features of the stroller. You can find options with windows that open or close, additional padding in the carriage, and strollers with extra storage compartments.
Before you make your decision, think about the comfort level of the stroller. You want your pet to be comfortable. But, you also need to be comfortable.
For example, depending on your height, you may prefer adjustable handlebars. This is also a good idea when two different people, with different heights, will be using the same stroller.
Choosing the Best Dog Stroller for Your Needs
Along with these tips, you should look at dog stroller reviews. This will help you learn more about the specific features of each stroller.
Remember to look at the weight capacity, stroller style and design, safety features, and the overall comfort that it provides for both you and your dog.
The bottom line is that you should think about how you plan on using the stroller. Think about what type of terrain you'll travel on and how long you'll use the stroller. This allows you to consider the features that are most important to you.
Keep these details in mind as you start shopping for a dog stroller for small dogs.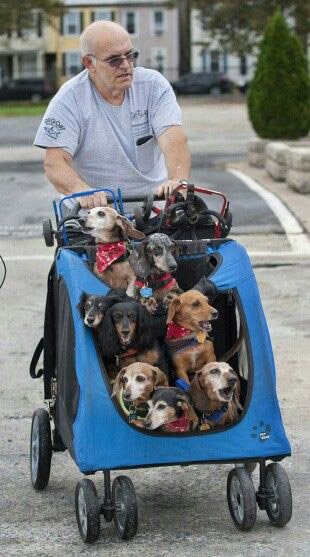 In this case a large dog stroller is the right choice!
Links:
1-800-petMeds