The pet carrier backpack is an ideal way of transporting a small to medium size cat or dog. For a trip to the vets the pet backpack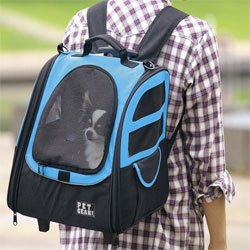 is an ideal solution for all types of small animals.
many people use them for transporting puppies, very small dogs or elderly dogs to a walking area, letting them have a run around and then transporting them home again, allowing the pet to enjoy the trip without getting overly tired.
Pet backpacks are also ideal for pets recovering from an illness or operation.
With a pet carrier backpack you have some distinct advantages over the standard hand or shoulder carry models, such as: The weight is evenly distributed, which means you don't need to keep swapping from one hand or shoulder to the other, enabling you to walk longer distances without getting fatigued.
Also, you can strap on the dog or cat backpack carrier and jump on a bike, enabling you to cover even greater distances than if you were to walk.
Airline Approved Backpack Carriers:
Airline approved backpacks can be taken into the cabin of an aircraft and placed under the seat in front of you. The airlines have strict rules and regulations on the size of the carrier, and even though a carrier may be advertised as "Airline approved" you must check with the airline regarding the permitted type and size of pet carrier.
Some airlines only allow a certain number of pets on each flight, which is why you should book early. On many aircraft the aisle seats have less room under them, so, when booking a flight, ask the airline to book a seat that has enough room for your carrier.
Visiting the airlines website often gives the answers to any questions you may have, if however the website does not answer your particular query, Email or phone them.
Another way of finding out if a particular pet carrier will be accepted on a flight is to scan the Amazon reviews, or post the question on Amazon and wait for the answers to come back, remember, these are people that have actually taken the carrier on a particular airline.
How to choose a pet carrier backpack
Some models come with accessories such as wheels and luggage style pull along handles, while others are just plain and simple
pet backpacks. Having accessories is all well and good if you are going to actually use them, if you won't be using them on a regular basis, all they are going to do is add extra weight and cost to the carrier.
There are many different makes, models and sizes to choose from, most are suitable as a puppy carrier backpack, small dog carrier backpack or a cat carrier backpack. Before purchasing, make sure to measure your pet and compare the measurements against the manufactures specifications to ensure he/she will comfortably fit into the carrier.
Set your price range. Most backpacks are fairly cheap, however, there are some that are in excess of $100. By determining your budget, you can quickly narrow your choices.
The simplest and quickest way to choose a pet carrier backpack is to read the Amazon reviews. These are people who have actually purchased the product and are posting reviews, both good and bad. In other words, they are doing the work for you. Just don't be put off by a couple of bad reviews out of a few dozen, not everyone has the same requirements and while a certain product may be ideal for one person, it may not be right for someone else. In most cases, the unfavorable reviews have been left by customers stating that their dog is under the recommended weight limit but was too large to fit into the carrier. That's why you should measure and weigh your pet before purchasing a pet carrier backpack, don't just solely go by weight or size.
Our top 5 choices

Snoozer Pet Dog
Cat Puppy Carrier

Texsens Bubble
Backpack Pet Carrier

K&H Comfy Go
Backpack Carrier

Pet Gear
I-GO2 Traveler

Prefer Pets
Backpack Pet Carrier
Airline
Approved
Yes *
Yes *
Yes *
May be accepted on some
Yes *
Weight
Limit
Small: Up to 7 lbs
Medium: Up to 15 lbs
Large: Up to 30 lbs
16 lbs
N/S
20 lbs
20 lbs
Size (LxWxH)
Small: 12″ x 8″ x 17.5″
Medium: 14″ x 11″ x 20″
Large: 15.5″ x 12.25″ x 23″
12.60″ x 8.66″ x 15.74″
15″ x 11.5″ x 14″
16″ x 12″ x 15″
See Review Below
For Internal Sizes
Overall: 15″ x 10″ x 12″
Interior: 14″ x 9″ x 11″
Weight
Small: 5.6 lbs (approx)
Medium: 6.4 lbs (approx)
Large: 7.2 lbs (approx)
3.9 lbs
4.2 lbs
3.6 lbs
2.7 lbs
Wheels
Yes
No
No
Yes
No
Interior
Leash
Yes
Yes
Yes
Yes
Yes
Amazon
Reviews
.
.
.
.
.
* Please check airline size requirements before purchasing
---
Snoozer Pet Dog Cat Puppy Car SUV Travel Carrier Backpack with Rolling Casters
Features
Airline Approved (please check with your airline before purchasing)
This versatile wheeled pet carrier also converts to a pet carrier backpack, car seat and bed
Easy to pull with a multi-staged telescopic handle
Padded and ergonomically designed back section
Padded backpack straps that stow away when not in use
Two zippered storage pockets
Removable base plate
Dimensions:
Small Size: 12L x 8W x 17.5H inches. Maximum pet weight:  Up to 7 lbs.
Medium Size: 14L x 11W x 20H inches. Maximum pet weight:  Up to 15 lbs.
Large Size: 15.5L x 12.25W x 23H inches. Maximum pet weight: Up to 30 lbs.
Available in Red, Khaki or Black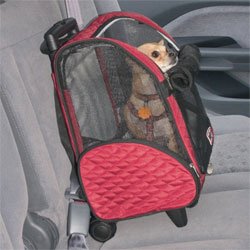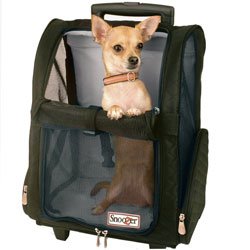 The Snoozer is a complete 4 in 1 pet travel system, it's a backpack, rolling carrier, car seat and pet home, all rolled into one package.
The pet carrier is very lightweight and manufactured from a durable easy-clean, nylon microfiber quilt that is waterproof and ultra strong. The Snoozer has a removable base plate that when removed allows the carrier to fit under most airline seats. However you should check with the airline regarding pet carrier dimensions.
As far as ventilation and vision goes, the Snoozer three sides made of a heavy duty mesh, so air flow definitely won't be a problem. The mesh also allows your pet to see you and for you to see your pet.
The zippers are very good quality and should stand a lot of wear and tear. Front/top mesh zips from either side and meets in the middle, which is ideal for opening slightly to interact with your pet. There are two zippered pockets that are great for storing small items. To stop any accidental escapes there is an internal leash that connects to the pet's collar.
When used as a wheeled pet carrier the suitcase style, extendable handle allows the Snoozer to be pulled effortlessly along, which is a real bonus if you are going to be using it for airports.
Due to its light weight, ergonomically contoured shape and padded shoulder straps, the backpack pet carrier is comfortable to wear, even for long periods. The backpack straps, when not in use can be quickly and easily stowed away.
When using as a pet car seat, the carrier can be secured using the vehicle seatbelts, and has been crash tested at 30 lbs at 30 mph. providing your pet with both safety and security.
Using the carrier as a pet bed will not only provide your pet with somewhere to sleep and relax, it will also get the pet used to going in the carrier, which makes it a whole lot easier to get your pet inside when you need to take it out on a trip.
Conclusion
It's not very often that a multipurpose product excels in all departments, however, this is one on those rare occurrences when it does. The Snoozer Pet carrier is an excellent all-rounder, from the easy roll pet carrier to the comfortable pet carrier backpack, the Snoozer is one quality product that we can certainly recommend.
Sizes: Small, Medium and large  – Colors: Black/Grey, Khaki, Khaki/Black/Blue, Red/Black and Red are available on the same page
---
Texsens Innovative Traveler Bubble Pet Carrier Backpack for Cats and Dogs
Adjustable, padded shoulder straps and handle for comfortable carrying
Built-In security leash for pet security
Mesh panels & ventilation holes that give maximum air flow
Soft, washable and removable internal pad
Side entries for maximum accessibility
Can be used as a rucksack carrier, hand carrier, pet bed and car seat
Approved for use on most major airlines. Please check airline requirements before purchasing
Carrier meets all USDA & IATA requirements
Carrier weight: 3.9 Pound fits pets up to 16 pounds
Color: Coffee, Yellow, Pink, Blue, Purple
Approx dimensions: 12.60″ L x 8.66″ W x 15.74″ H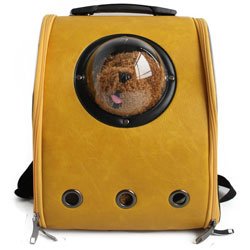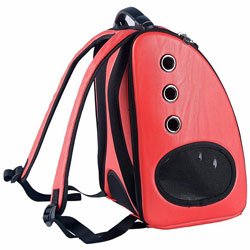 If there was a pet carrier backpack award for design innovation, the Texsens Traveler Bubble would win it hands down. The carrier looks like it was designed by NASA to send the pet into orbit, however, when you take a deeper look into the Traveler Bubble's features, it becomes pretty clear that a lot of thought has been put into the design.
The most interesting aspect is the bubble window, which can be removed, leaving just a mesh window beneath. The bubble enables the pet a view of the outside world whilst at the same time providing total security for your furry friend.
The solid floor and removable, washable pad provide both stability and comfort for your pet. Ventilation is provided by two mesh screens and a series of holes on the front and sides of the backpack carrier. There is also an interior leash connector for pet security.
Both sides of the carrier can be unzipped, and the zippers themselves do seem to be strong and durable. Rubber feet on the bottom protect floors and car seats from accidental damage.
There are two options to carry the Bubble Backpack, either by hand, using the top handle or by using the adjustable, padded shoulder straps and using it as a pet carrier backpack.
Conclusion:
With its unique design and looks, the Texsens Bubble Backpack will certainly have a few heads turning, which may or may not be a good thing. The multi-use carrier is very sturdy and should withstand the rigors of everyday use.
Choice of colors available on the same page
---
K&H Pet Products Comfy Go Pet Carrier Backpack
Allows you to carry your pet and have your hands free
Keeps pet comfortable
Mesh windows for pet to see
Carriers break down in a snap for easy storage
Storage bag included
One year limited warranty
Sporty style great for travel outdoors, allows you to carry your pet, hands-free
Can be carried from a strap on one shoulder or on your back like a backpack
Safety leash with collar clip to keep pet safe and secure inside the backpack
Breaks down in a snap for easy storage, Storage Bag included
Size (LxWxH): 15″ x 11.5″ x 14″
Weight: 4.2 lbs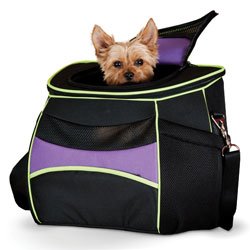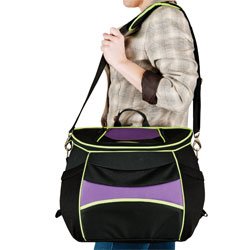 The K & H Comfy Go Pet Carrier Backpack is just what it says, a comfy backpack carrier! Although the "Comfy Carrier" does not have all the bells and whistles of some of the other products featured here, it does what it is designed to do, and does it very well.
A strong 600 denier nylon outer fabric gives strength and durability whilst at the same time remaining extremely lightweight, which is a real bonus if you are taking your pet on a long bike ride or hike. The material is also waterproof and wipe clean. Inside the carrier is a stiff floor board and a soft, removable and washable mat for maximum pet comfort. There is also an internal leash for pet safety.
With three pockets on the carrier (one on either side and one on the front) there is ample storage space for treats and other small items. Another small pocket is located on the shoulder strap.
Included in the package is a single shoulder strap and double backpack straps, which enable you to either hand carry with the attached handle on top of the carrier, shoulder carry or wear it as a backpack. All carry straps are comfort padded and can be adjusted to suit the user's preferences.
On top of the carrier is a mesh ventilation window, which can be zippered open to interact with the pet. A second zipper opens the complete top area for easy loading and unloading of the pet.
Conclusion:
If you are looking for a basic, small dog or cat backpack carrier, you should be seriously considering the K&H Pet backpack. It is very well made, has a choice of carrying options, and at this price, is a real bargain.
---
Pet Gear I-GO2 Traveler Rolling PetCarrier Backpack for Cats and Dogs
Can be used as a carrier, car seat, backpack, wheeled bag and tote
Internal tether can be attached to your pet's harness for extra safety
Telescopic, suitcase style handle stores out of the way when not in use
Sides can be expanded to add 3 inches of additional space
Features two side storage pouches for your pet's extras
Measures 16 L x 12 W x 15 H-inches,
Fits up to 20 lbs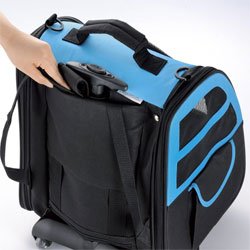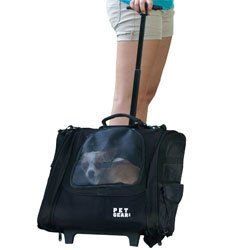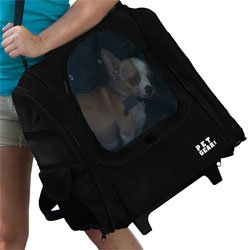 Another multi-purpose pet carrier that is well worth a mention is the Pet Gear I-GO2. The Rolling Backpack Carrier can also be used as a pet car seat and pet home.
Pet Gear manufacture a range of pet carrier backpacks, with each having different dimensions to suit various size pets. The model we are reviewing is the Traveler (16″L x12″W x15″H). Other models include the Escort (14″L x9″W x19″H), the Sport (12″L x8″W x17.5″H) and the Plus Traveler (16″L x13.5″W x22″H). View the complete
Pet Gear I-GO 2 Range.
Although the product dimensions are listed as; 16″L x12″W x15″H, the actual internal dimensions are; 16″ Wide (across the front or from side to side) when the sides are expanded x 11.5″ Deep (front to back) x 13″ High, with internal pad and bottom reinforcing installed.
The Pet Gear I-GO2 Traveler is an ideal way of transporting your pet, whether it is by car, on your back, wheeled along or carried by hand. The I-GO2  Traveler has been designed for small dogs, and as such it is quite a small carrier, so, checking the above dimensions against your pet's size is absolutely essential.
On the inside of the carrier/ backpack is a reinforced base that is covered by a very thin, washable pad. Also on the inside are two leash tethers to secure your pet.
The mesh front can be unzipped for easy loading and unloading. The side panels also have a mesh portion at the top, which gives the pet plenty of ventilation and vision. Unzipping the side panels allows the carrier to expand slightly, giving an extra 3 inches on the width.
Conclusion:
Overall, the Pet Gear I-GO2 Traveler is a competent pet travel system. However, we would strongly urge you to check the size of your pet. Also, if you are going to be using the carrier for airline travel, check with the airline and read the Amazon reviews before buying.
Choice of colors available on the same page
---
Prefer Pets Pet Carrier Backpack
Can be used as carrier, pet carrier backpack, tote and car seat
Large mesh ventilation panel with roll up and down cover
Bone shape mesh panel at back of carrier
Zippered entry with mesh ventilation panel
Zippered, fold down, peek-a-boo mesh panel opening on the other end
Rigid floor with removable comfy base pad
Pet travel ID tag included
Complies with major airline's under-seat regulations
For small pets up to 20 lbs
Overall Product Weight: 2.7 lbs
Overall Size (LxWxH): 15″ x 10″ x 12″
 Interior Size (LxWxH):  14″ x 9″ x 11″
The Prefer Pets Backpack dog carrier, cat carrier and small pet Carrier is a lightweight yet strong solution for transporting all types of pets. The size of the bag complies with all the major airline's in-cabin rules and regulations. The frame is rigid but still flexible enough to squash down slightly if the under-seat space in front of you is small.
With a zippered mesh ventilation panel at one end, zippered, semi fold down mesh panel on the other end, large front mesh ventilation, and rear panel mesh, air flow into the carrier definitely won't be an issue. The large front mesh window also features a roll down cover.
Inside the carrier is a removable, fleece covered floor that is very rigid and strong. There is also a metal leash ring to secure your pet.
On the back of the Prefer Pets Backpack is a sewn-in strap that can be used to pass the telescopic handle of a rolling suitcase through, allowing the carrier so sit on top of the case. The strap also doubles as a seat belt loop to secure the carrier into a vehicle.
The Prefer Pets can be carried by hand, over the shoulder or used as a backpack, giving you plenty of options as to which way you want to transport your pet.
Conclusion:
Overall, the bag is very well designed and manufactured. Both the materials and the hardware are strong and durable. The rigid floor helps to keep the shape and provide a solid base for your pet.
If you  are looking for a lightweight pet carrier backpack, the Prefer Pets could be the perfect carrier for you.