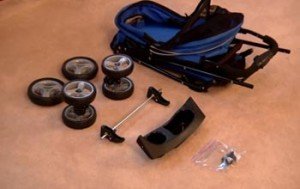 Many people consider pet strollers luxury items that are owned by those who pamper and spoil their pets. However, if you take some time to understand the reasons why the pet stroller is becoming so popular, you will soon realize the many benefits of owning one.
As with all things mechanical, pet strollers will at some point require some basic maintenance and adjustments. This will not only ensure your stroller rolls easily, it can also greatly lengthen the life of it.
Basic Pet Stroller Assembly and Maintenance Tips:
Building the Stroller:
One of the biggest problems people have after purchasing a pet stroller is the assembly. With many of the strollers being built in china, the assembly instructions are at best adequate and at worst impossible to follow. If you do have a problem with initial build due to poor instructions, all is not lost, there are a number of websites that you can visit to get help.
Contact the manufacturer or importer by email or phone. Clearly state the problem and if contacting them by email send photos and/or a video. Some manufacturers or importers will respond quickly and others won't even bother to reply. Sadly, with many of the manufacturers, customer service is not high on their priority list.
Search Amazon.com.
Even if you didn't buy the stroller from them, the chances are they will stock the same or similar model. Search Amazon by make and model i.e.: Pet Gear AT3 Generation 2 All-Terrain Pet Stroller.
When you have found the correct model take a look at the questions and answers section to see if anyone else has had a similar problem with the assembly and scan the answers that have been posted. Also take a look at the reviews as many buyers will have posted helpful tips on the assembly procedure. If there is no information regarding the particular problem you are having, post a question. The Amazon community are very helpful and if they have the answer you are looking for it will be quickly posted on here.
YouTube is another great resource for finding pet stroller assembly videos. There is nothing better than actually watching someone putting together the stroller.
Sample YouTube Video
If neither of the above sites yields any information, try Yahoo Answers. This is another fantastic resource that is often overlooked. Post a question and wait for the answers to come in.
Search Google, Bing and MSN for assembly instructions. Using the power of the search engines can often reveal some good results. Try searching for the make and model followed by "assembly instructions" or "assembly". If you can't find the exact same model on Amazon, YouTube, Yahoo Answers or the search engines, try searching for the manufacturers name and exclude the model number or model name. Often, different models by the same manufacturer will have the same basic assembly procedure.
If all else fails, Leave a message below and we will do our best to find the information you need. Please state the make, model and the assembly problem you are having.
Tires:
Most tires on the budget strollers are made from a plastic or EVA type of material. Although these types of tire don't offer as much shock absorbing as the air filled type, they are fairly maintenance free and you won't need to worry about punctures and tire pressures. Air filled tires are great for bumpy or off-road terrain. However, they do need some basic maintenance such as keeping them at the correct pressure and repairing any flat tires. Tire pressures should be listed in the assembly instructions, if they are not listed, use the same procedure as above to search for them.
Cleaning the Stroller: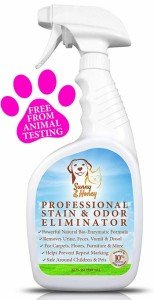 Cleaning the stroller is essential to ensure correct operation and to maintain the health of your pet. Use warm soapy water to clean the fabric, never use any type of solvent or commercial cleaning products as they may leave a residue that can affect your pet's health.
One of the best products on the market is the Sunny Honey professional stain and odor eliminator. Check out the incredible Amazon Reviews.
If you use the stroller in muddy ground, make sure to wash the mud off the wheels before storing it away. Mud can contain tiny flecks of grit and if you leave it to dry on the wheels it will turn into dust that can infiltrate the wheel bearings and cause premature wear.
Your Pet:
If your pet is immobile, the chances are that the pet's nails will be long due to the fact that the pet is not naturally wearing them down when out walking. Keeping your pet's nails clipped will reduce the chance of it getting entangled in the mesh netting and also ripping the fabric.
Road Conditions:
Even if you have air filled tires, avoiding rough terrain is always a good idea. Not only will bumpy or rocky ground cause damage and a possible premature breakdown of the stroller, it is also detrimental to your pet's health. If your pet has had surgery or is suffering from a condition such as arthritis, the last thing your pet will need is to be bounced about inside a stroller.
Pre walk checks:
Carrying out some simple pre-walk checks is advisable to ensure the safety of your pet and to avoid any breakdown of the stroller when you are miles away from your home or vehicle.
Inspect the condition of the tires to make sure they are not damaged or cut. If you have air filled tires, ensure they are at the correct pressure.
Check the wheels for any wear and make sure they don't wobble about.
Ensure that the stroller correctly locks into the open position.
Check all fixings and tighten where necessary.
Inspect the interior of the pet cabin for damage, paying particular attention to the internal leash tie(s).
Spares:
Spare parts for pet strollers are sometimes available direct from the manufacturer or importer. Visit the maker's website and look for a spare parts page, if the website does not have a parts page, contact them with a spare part request. Once again, if you can't find any website or contact details use the resource sites listed above.
Pet Stroller Manufacturers:
Listed below are links to some of the popular pet stroller websites, this post will be regularly updated and new manufacturers added. Pet Gear, Rage Powersports, Gen7Pets, DoggyRide, PetZip. We hope you found this basic pet stroller assembly and maintenance article helpful. If you have any comments, please leave them below.