Let's talk about Barksbar Snuggly Sleeper dog bed. My job as a dog mom is to spend most of my time watching Harry, my adorable bichon poodle sleep and snore in the most ridiculous of places. I was struck by the fact that this 20-pound prince can bend his body into all kinds of bizarre positions.
Harry is my favorite bed. We have tried three beds before we found the right one. I was shocked to see the BarksBar Snuggly sleeper for the medium size bed. A recent move gave me the perfect excuse to buy Harry a memory foam mattress dog bed. Harry loved the dog bed as much I did. Is human-grade memory foam actually required for a dog? Continue reading to find out.
Features, Pros, Cons of Barksbar Snuggly Sleeper
Barksbar Snuggly Sleeper
Pros
It's soft to the touch
Orthopedic memory foam of human-grade quality
For comfort and security, cotton-padded walls
Rubber grip base to prevent slipping
Machine-washable removable cover
Cons
There is no small option-only medium and large senior dog options
Prices high
More About Pros
Size The BarksBar Gray Orthopedic Dog Bed comes in two sizes: Medium (32″x22″x10") or Large (40'x30″x10"). It can hold up to 110 pounds and can accommodate pets up to 36 inches in length. This bed is suitable for small dogs, labs, and golden retrievers. This dog bed is not recommended for Great Danes or Labradors. But you can use it for multiple smaller dogs.
Orthopedic Foam: Solid orthopedic foam base is high quality and customers love it. Reviews have also said that the dog bed is thick and supports your dog's joints. It will not flatten easily.
Bolster snuggle design: This bed is great pillow-like support for the head. This bed is ideal for dogs who like to curl up on their sides and rest their heads. For larger dogs that like to sleep fully, it is not a good choice.
Ultra comfortable eggcrate design: Long periods in bed can be made more enjoyable for dogs by the egg crate design. This is a huge plus as dogs sleep most of the day. Doggy heads can rest on the soft, thick bolsters at their sides.
Lightweight: For the sleeping space and size of the bed, it isn't too heavy. The bed also seems to keep the temperature down enough that it doesn't heat up as much.
Non-slip bottom: To prevent sliding on tiled or wooden floors, the dog bed has a non-slip rubber backing.
Machine washable: The removable, machine-washable cover makes it easy to clean and maintain. The instructions for washing the dog bed say to wash it on a gentle/delicate cycle.
The price is low for this orthopedic dog bed.
High-Quality Memory Foam Basis
There are two types of memory foam: high-quality, human-grade memory foam and memory foam.
An orthopedic dog bed is worth the investment.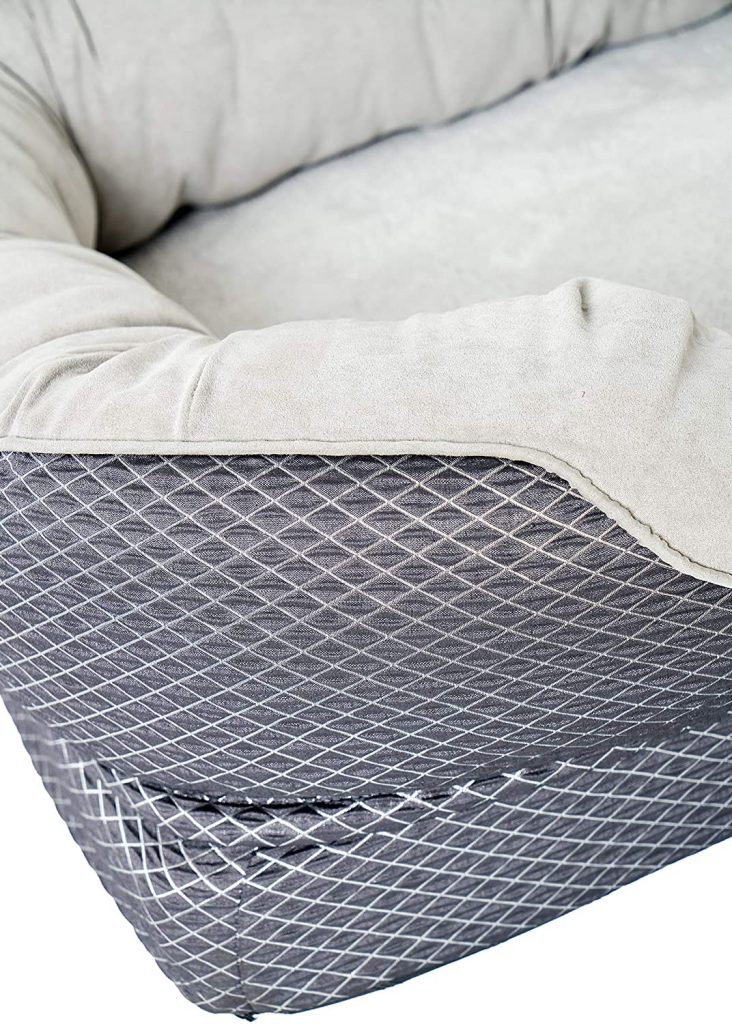 BarksBar Snuggly Sleeper has 4 inches of orthopedic foam for maximum comfort.
We will discuss the pros and cons of a 4 inch height for dogs with severe joint problems.
This bed is made of solid foam, not shredded fill. It's definitely a pro.
Specifications
Product: Gray Orthopedic Dog Mattress
Manufacture: BrandBarksBar
Weight: 7.4 lbs.
Dimensions of the product: 32 x 10x 22 in.
Size options: Medium and large
Material: Polyester and memory foam
Bolsters To Add Comfort & Security
For a super comfortable nap, the cotton-padded rim molds to your dog's neck.
Bolsters are great for dogs who like to sleep curled up, as well as "leaners", such as my girl. She loves to lean against something while she sleeps.
The bolsters give your dog an extra sense of security because they completely surround the BarksBar Snuggly Sleeper orthopedic dog bed.
Soft Machine Washable Cover
The Ultra Soft Polyester Cover makes the Snuggly Sleeper orthopedic dog bed gentle on dogs' skin and easy to clean.
The cover zips up so that you can wash it as usual.
Polyester fabric is easy to clean between washes.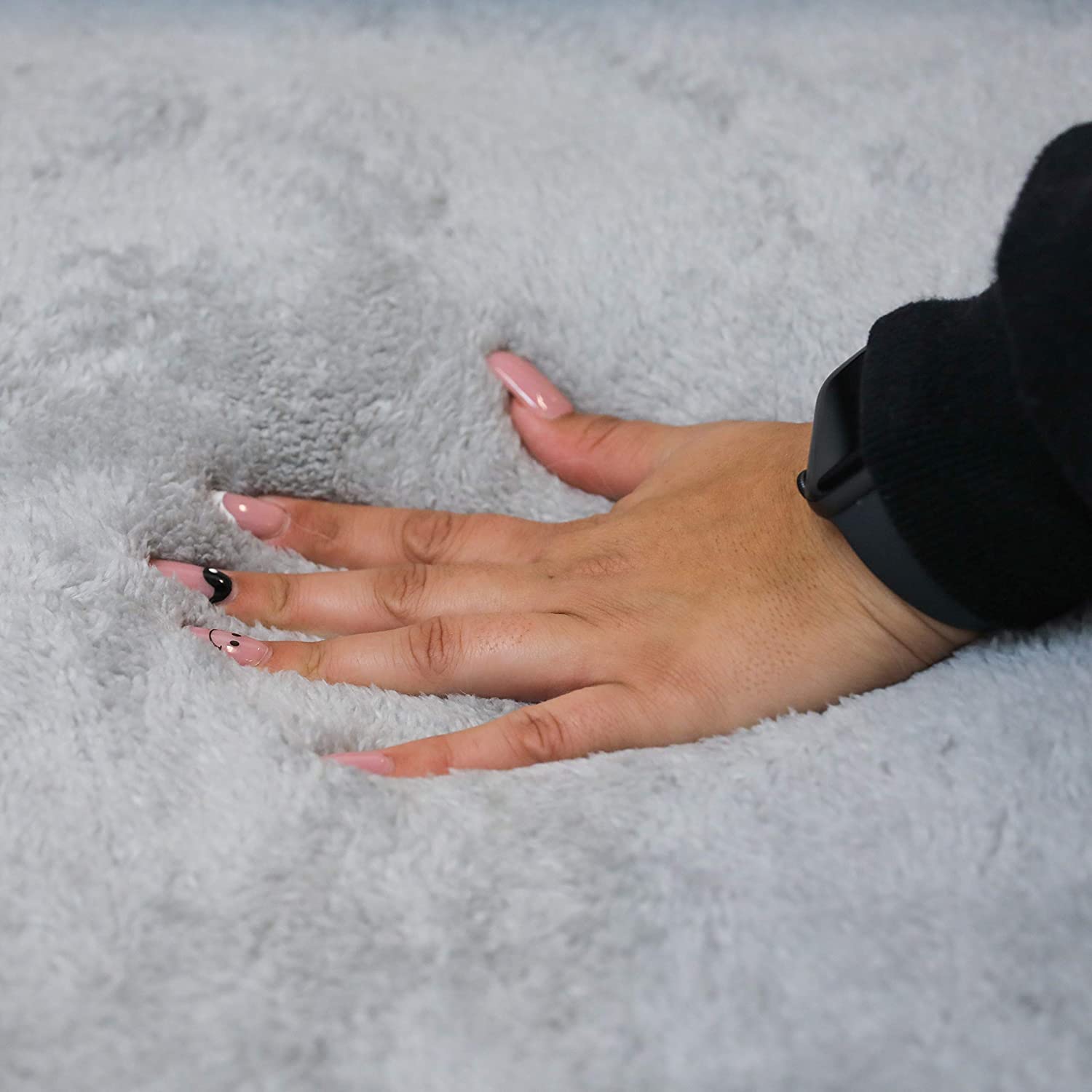 The BarksBar bed is easy to maintain with its removable, machine washable cover. After one week, I noticed some minor stains on my BarksBar Snuggly Sleeper orthopedic dog bed. Harry did take a few treats in the bed. But I was able quickly to remove them with my favorite pet carpet cleaner and not have to wash the entire thing.
A word of wisdom: Don't machine dry the cover after washing it. This can cause damage to the fabric. Instead, allow it to air dry completely before you put it on again.
Cons
Take a look at what we don't like in order of importance (to my knowledge), and then continue reading to find out about the drawbacks.
WHAT WE DO NOT LIKE:
Only available in medium or large sizes, and only one color.
Memory foam is not very thick
It is not the best bed for active dogs and pups.
Made in China
Lack Of Size
You won't find a small selection, and you will not be able to get a Barksbar Snuggle sleeper XL.
Barksbar's medium orthopedic dog bed is almost always out of stock!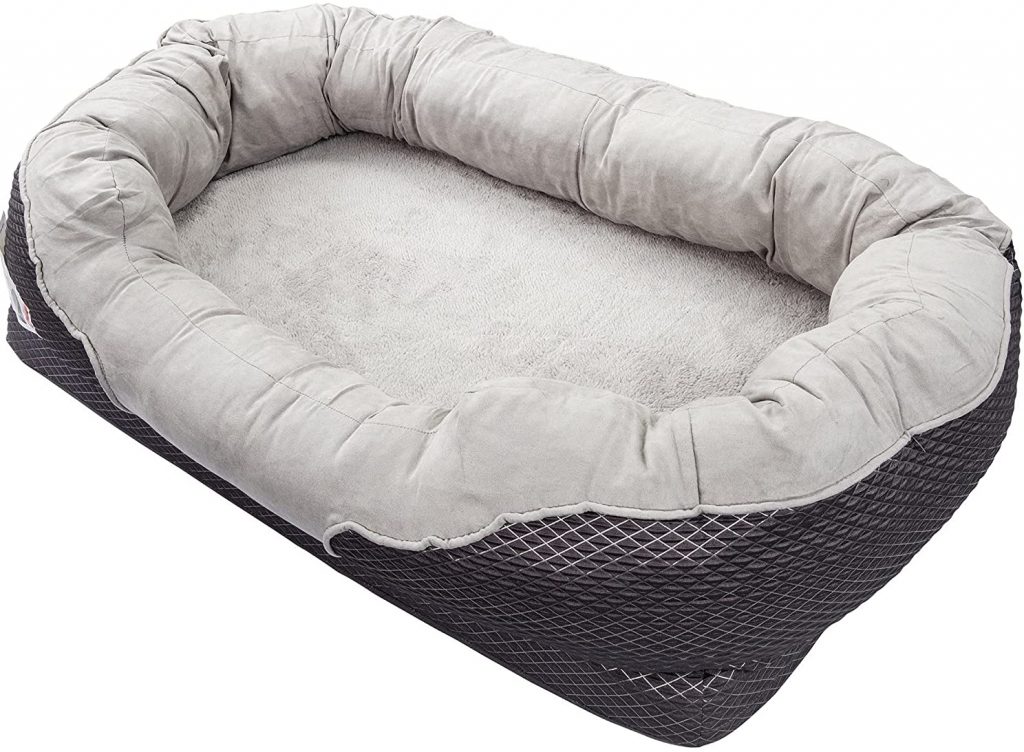 Large, on the other hand, is too large for small dogs and too small to be used by giant breeds.
Memory Foam Bed Is A Little Thin
Although the memory foam is of premium quality, dogs that require orthopedic support will only be able to use four inches of it.
This is in addition to the fact that many customers complained that it was very fast flattening for senior dogs with sore joints.
But let's talk about our experience. Harry was not the happiest child. I saved him at six months. I have spent the rest of my life compensating for his mistreatment with lavishes like soft blankets and homemade dog treats. The human-grade memory foam in this dog bed is just as soft as it sounds online. BarksBar Snuggly Sleeper is different from all other dog beds on the market because it has solid orthopedic foam. It provides comfort and reduces joint pain, which is a huge advantage for senior dogs and arthritis sufferers.
Dogs like pillows just as humans do. BarksBar's Snuggly Sleeper is made of ultra-soft polyester. It features cotton-padded walls that are designed to support your dog's neck and head. Although Harry has not yet spoken out, I can tell that Harry is more comfortable in dog beds with high-padded walls. These are his preferred choice over carpets or mats, even if they're comfortable.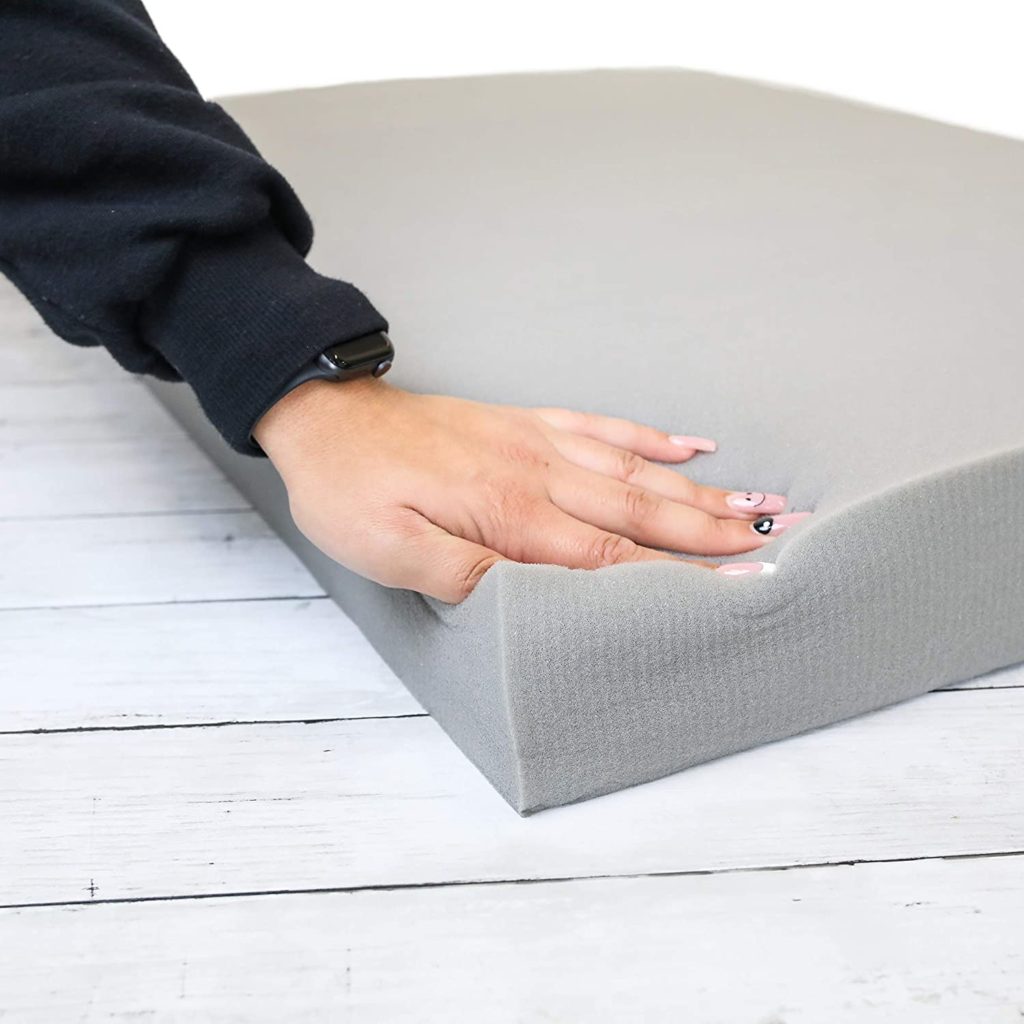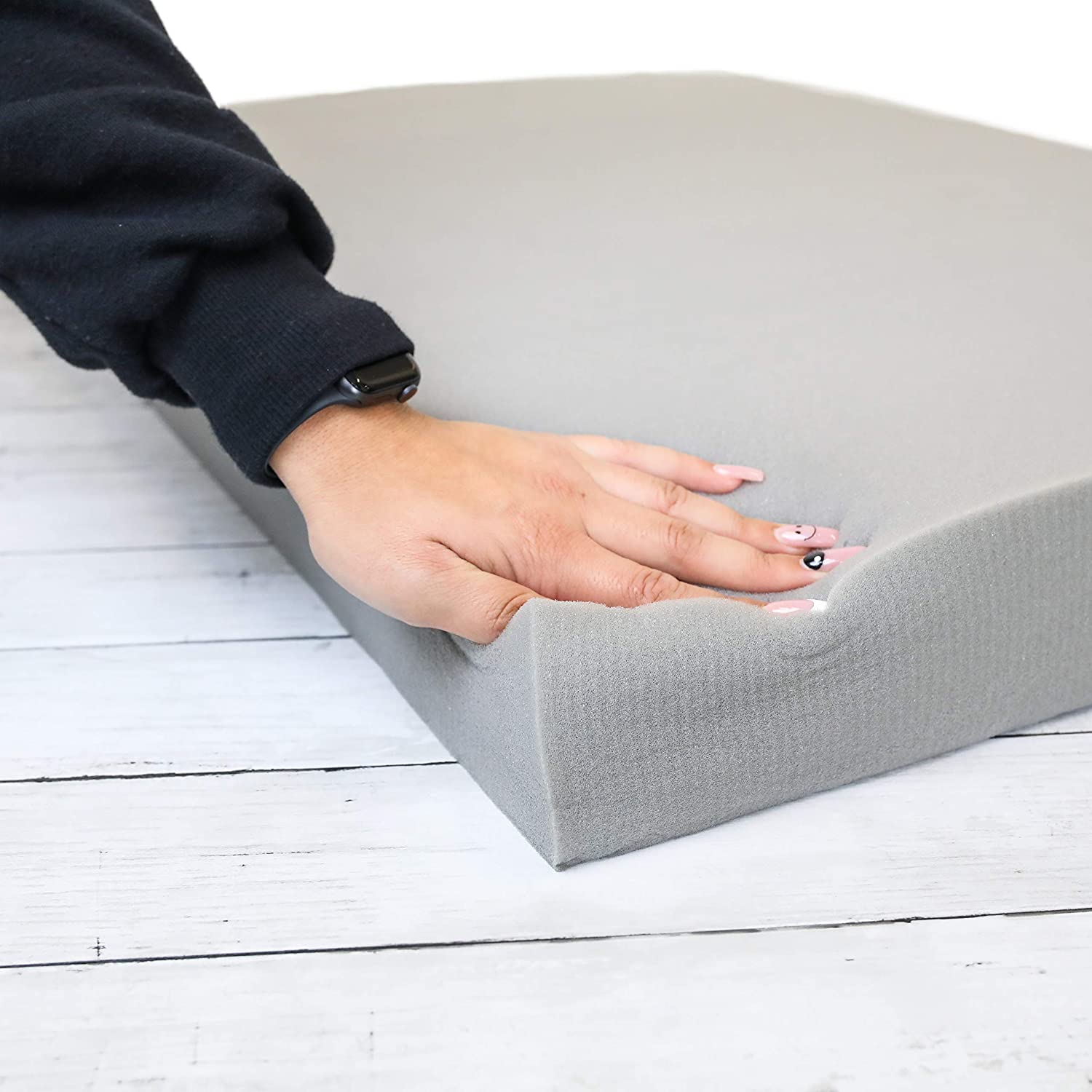 Although it was not important to Harry, I also liked the rubber-grip top. The rubber-grip bottom prevented the bed from sliding across our wooden and tiled floors as Harry jumped in and out.
The bed only comes in medium and large sizes. The first is 32x22x10 inches while the second is 40x30x10 inches. Harry is a 20-pound dog and can fit in the medium. However, there's plenty of room that I fill with toys. My mom brought her 10-pound Havanese to visit. The bed was too large for her to fit in. It felt like Harry was more secure than she felt. We wouldn't recommend this bed to toy breeds unless your pups love cuddling together.
The medium bed suits breeds that weigh between 30 and 40 pounds, such as Whippets, Beagles, and Cocker Spaniels. Large is best for larger breeds that weigh less than 100 pounds such as Huskies, Labrador Retrievers, and Boxers.
A Lot OF Work, But Not Very Durable
The bed is not chew-resistant or dig resistant so it won't last very long in a home with dogs.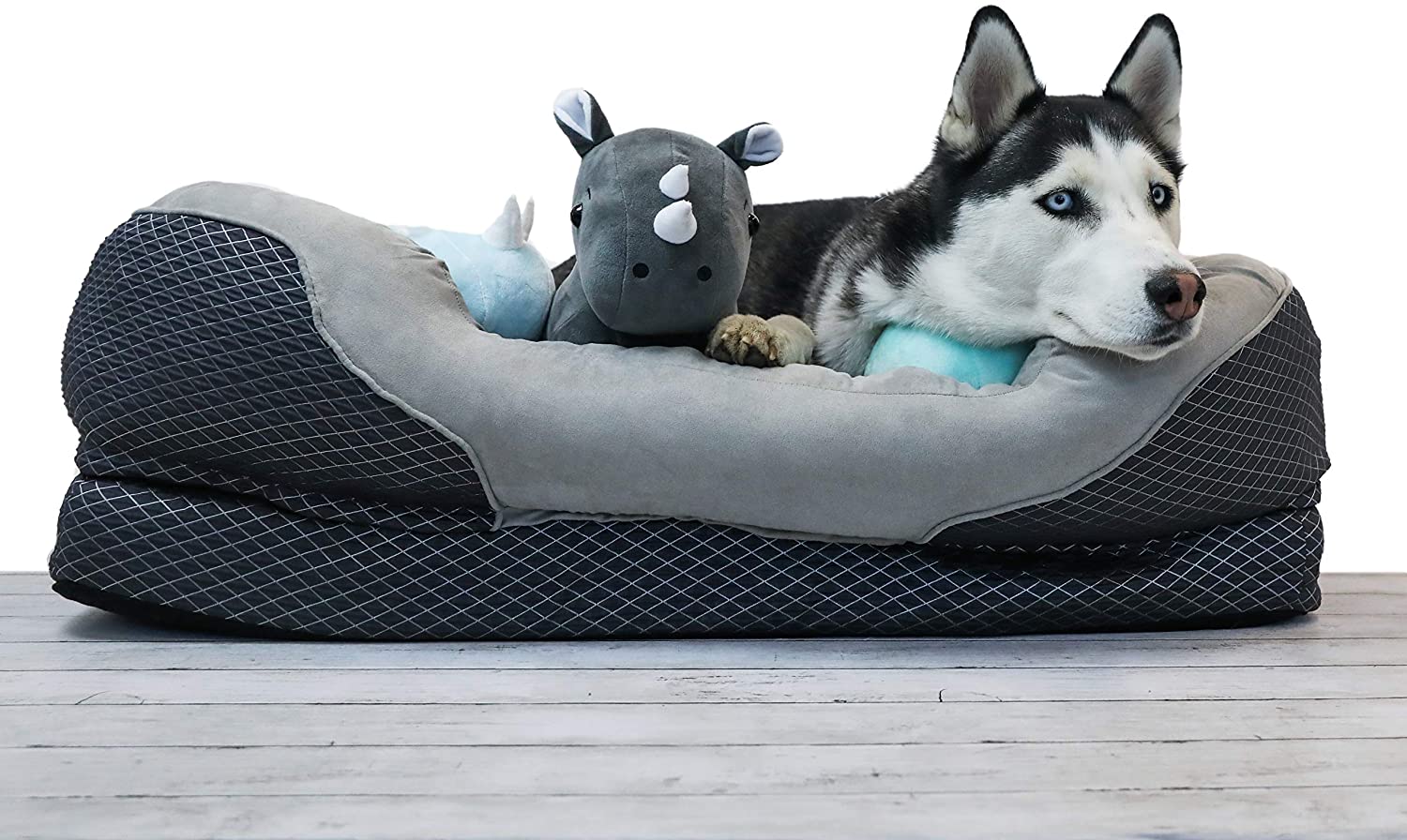 Some owners complain that they cover tears within a few months, even if their dog isn't very active.
This Was Made In China
This may not seem like a major issue to you but it is something I consider a con because I know many people who prefer to only buy products made in the USA.
Conclusion
This round bolsters dog bed has received positive reviews from many customers. Customers praise the quality and durability of the bed, as well as how comfortable it is. The photos show that dogs love this bed! Positive reactions show that dogs love this bed and will lie on it all day. Many dogs love to share their bed with other dogs and cats. Sharing is caring!