Every dog and cat should be able to enjoy the sunshine. But, it is not always easy to take them for a walk on a leash, especially if you have two of them. This is especially true with small pets that may not like going for long walks. Luckily, there is a solution – the double dog stroller. The OxGord double pet stroller is designed to allow you to take up to two pets on a stroll or on errands. Even if you only have one pet, you can always use the spare seat for dog treats, water and even shopping.
Pet strollers are becoming more and more popular, as they provide a simple way to take your small pets with you when you want to take a long walk or visit a store. Learn more about the OxGord double dog stroller, including its features, pros, and cons.
Features: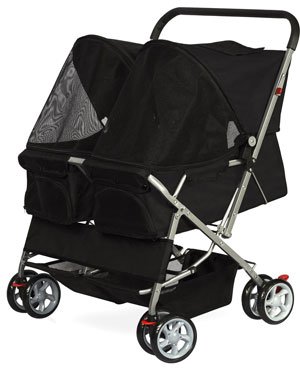 Multiple Windows for Maximum Ventilation
Spacious Design with Large Under-Seat Storage Area
Foldable, Lightweight, and Durable (Total Weight Capacity Up To 55 lb)
Two Tether Straps in Each Compartment
Rear Brakes
Weight:
20.5 Lbs
Weight Limit:
55 Lbs
Dimensions:
Stroller: 38″ x 29″ x 26″ Main Carriage (each): 23″ x 22″ x 11″ Under-carriage (each): 18″ x 11″ x 5″ Wheel: 6″ x 1.5″ Collapsed: 32″ x 30″ x 12″
Overview of the OxGord Double Pet Stroller
The OxGord double dog stroller is a solid 4-wheel stroller with a twin carriage. This allows you to fit two small animals. The total weight capacity is 55-pounds, for both of your pets together. Take a look at the main features of the OxGord pet stroller, including the following:
Large Storage Compartment
The pet stroller has a large undercarriage for storing treats, leashes, and portable water bowls. Along with a large storage compartment, the carriage itself is roomy and designed to give your pets plenty of space to move around within the carriage.
4-Wheel Pet Stroller for 2 Dogs
Each of the four wheels features double-wheels, for added stability and support. Despite the wide size of the double pet stroller, the OxGord is easy to maneuver. This is mostly due to the short length of the stroller. The stroller is not very long, which makes it easier to turn the wide base.
Lightweight, Foldable Design
The entire stroller is foldable and lightweight. This makes it easy to fold the stroller up for storage or transport. As with most strollers, when you fold the stroller, it can remain standing on its own.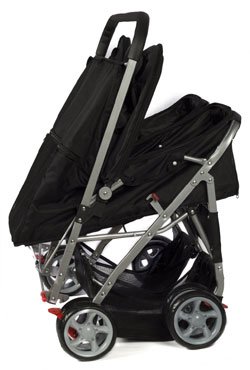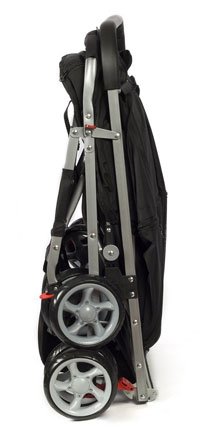 Spacious Twin Pet Carriage
The twin pet carriage is completely separated so that your two pets cannot get into each other's space. The last thing that you want to deal with during your stroll is two pets bickering. This keeps them separated, while still letting them view their surroundings.
Large Windows Along the Pet Carriage
There are also large windows for increased breathability. When taking your pets for a stroll in the double stroller, they will be able to breathe the cool air and enjoy the weather. They can look around and see everything while remaining secure inside your stroller.
Advantages of the OxGord Double Dog Stroller
What are the main benefits of the OxGord stroller? For one, you get a quality stroller that allows you to take up to two pets for a stroll. Beyond the simplicity of this concept, you can enjoy the following advantages:
Easy to transport and carry
Plenty of room for your pets
The stroller is easy to maneuver
Incredibly affordable
As mentioned, you can easily fold this stroller for transporting and carrying. It also has the ability to stand on its own, which is useful when storing the stroller.
The large twin carriage gives your pets more than enough room to enjoy the trip. Depending on their size, they can turn arou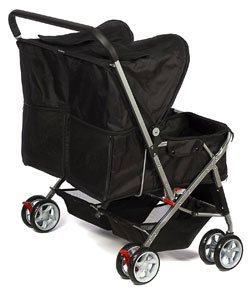 nd and reposition themselves with ease. Without adequate space, they may feel confined. The spacious compartment allows them to ride in style. They will be the envy of any pooch that they pass.
Also discussed is the ease of use. You can easily maneuver the stroller around tight spaces, despite the fact that the stroller is wide. The length is short enough that you can almost turn on a dime. This helps compensate for the wide base.
Along with all of these great features, the OxGord is incredibly affordable. You can expect to pay twice as much before you find a comparable pet stroller for 2 dogs.
Disadvantages of the OxGord Dog Stroller
The OxGord is a wonderful stroller, but there are a few issues to discuss. This includes the design of the twin pet carriage and the overall design quality:
You cannot open the carriage to make one large compartment
You cannot use this as a jogging stroller
The stroller may not be able to withstand constant abuse
Although the description states that it comes with a "cup holder", it does not
You will not be able to open the carriage in order to make one large compartment. There are strollers that give you this option, but the OxGord is not one of them. You are getting a stroller that contains two, completely separate pet compartments. If you want an open design, you will need to consider a different option.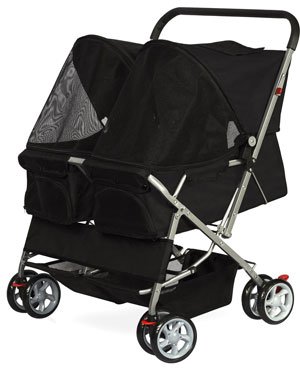 Due to the short length of the stroller, the OxGord is not suitable for jogging. You will have trouble keeping the stroller moving in a straight path while jogging, as the length makes it difficult to keep straight at high speeds. It also does not include a locking mechanism for the wheels – in order to keep you on a straight path.
One Amazon reviewer owners has pointed out that various components and parts have broken with repeated use. You need to keep in mind that this is an affordable dog stroller. It is not intended for use over rough terrain or jogging.
If you want to keep this stroller as long as possible, then use care when folding and storing the stroller. Also, avoid traveling over rough terrain or banging the stroller into obstacles. It may not be the most durable stroller, but it should last quite some time if you use common sense and proper care.
The Bottom Line – Should You Buy the OxGord Double Dog Stroller?
If you are looking for a twin dog stroller, the OxGord is a great choice. It offers a sturdy stroller for carrying up to two pets. It is lightweight, easy to fold, and comfortable to push.
Your pets will also enjoy the comfort of the stroller. The large windows offer breathability, while the spacious interior ensures they will remain comfortable during your trip. Perfect for cats and dogs. Whether you want a double cat stroller or a double dog stroller, the OxGord has you covered.
There are only a few drawbacks to the stroller. Though, the affordability, and other positive features, more than compensate for these minor drawbacks.
Overall, the OxGord double dog stroller is exactly as advertised. It is a quality pet stroller for 2 dogs.