You may have ever wanted to bike with your pet and been tempted to attach the dog leash to the handlebar of your bike like some pet owners. Both of you could get tangled up and end up in a pile. You can avoid getting tangled and end up in a heap by purchasing a dog bike trailer.
The Sepnine 2-in-1 Pet Dog Bike Trailers allow you to take your dog on a variety of activities, including running, walking, or biking. This versatile pet bike trailer jogger is ideal for active dog owners. The Sepnine 2in1 converts easily between a trailer and a jogger with the conversion kit. You can choose from medium or large sizes depending on your needs.
The Key Features of Sepnine 2 In 1 Pet Dog Bike Trailer
Sepnine 2 in 1 Dog Stroller
Pros
Front and back dual entry
Mesh Doors and Windows
Size Capacity: Up to 66 Pounds
Safety Leash
For easy storage, foldable
Easy Assembly
Steel Frame
Storage Space
Durability of 3-Wheel
Numerous Color Options
Bike Towing
Cons
You will need to make more effort to stop the stroller mid-stride as it doesn't have a brake
The warranty details are not clear
The only complaint it can be attached to any bike but the attachment is limited by the bike's size
These are just a few of the many features that you'll love about this pet bike trailer jogger.
Polyester Fabric – The stroller has a strong steel frame and a waterproof polyester fabric. This will ensure that your stroller/trailer stays in place.
Dual Entry – Your pet has two options to get on and off the trailer: through the front or back. It is now easier to get your pet on the trailer.
Mesh Windows Besides the dual entry points, every door on Sepnine 1 Pet Dog Bike Trailer has a mesh net window. Your pets will also enjoy the fresh air.
Easy Storage – Once you are done using the stroller it folds flat and can be stored under the bed or in the closet.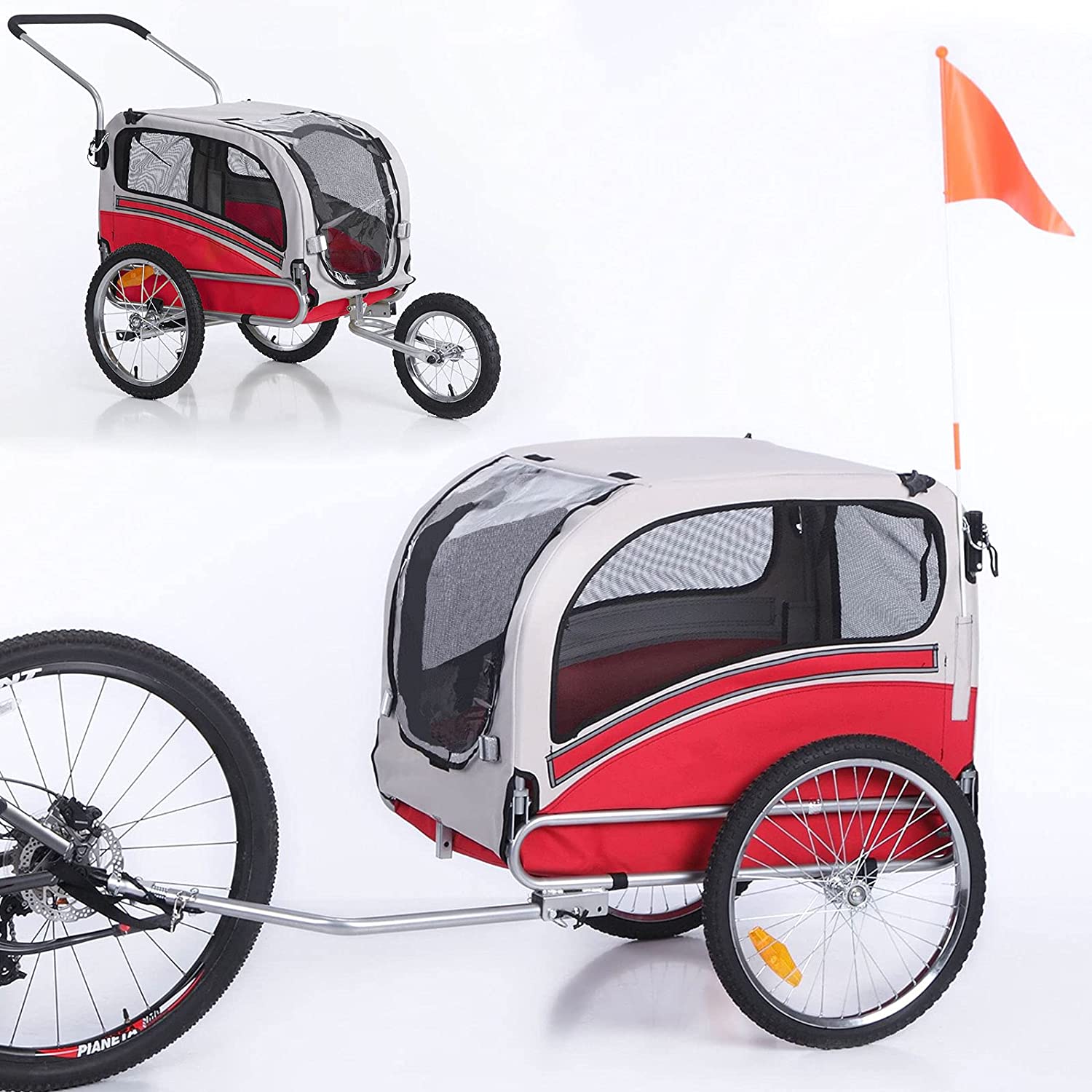 Converts a jogger into a trailer – Not interested in jogging? You can easily attach the swing-out front hitch to your bike and enjoy a day cycling in the park.
Tires- Sepnine 2 In 1 Dog Bike Trailer has 16″ rear tires, and a 12-inch front wheel to make it easy to move through all terrains.
Large and Medium Sizes – This medium size pet stroller/trailer has a 66lb weight and is suitable for small to medium-sized dogs and puppies. You can take your pet on walks, run errands, or watch them while you are out. The large Sepnine can carry pets up to 88lbs.
Pockets- The trailer has multiple pockets to store your pet's necessities, such as water, treats, or pooper scoopers. It can also be used to store your keys or phone.
Safety Features on Sepnine 2 In 1
Safety Leash – It's always safer to be safe than sorry. The bike trailer stroller also comes with a safety harness inside. To ensure your pet doesn't get out of the car, attach it to their collar.
Anti Slip Floor – The Sepnine 2 In 1 Dog Bike Trailer has an anti-slip surface that prevents your pet from sliding around in the cabin.

Safety flag and reflectors – Stop other riders or joggers accidentally ramming your trailer from behind. These reflectors and safety flags make your trailer visible, which is especially important for a night jog or a bike ride.
Suspension The Sepnine 2 in1 Dog Trailer has a complete suspension system. This allows pet owners and their pets to travel off-road while still keeping them comfortable.
The hand lock brake system – You don't have to worry about your pet running off when you stop for a break. The stroller comes equipped with a hand brake system to ensure that it stays parked at all times.
Adjustable handlebars- Jog comfortably as the handlebars can be adjusted to the user's height. Jogging is now easier than ever.
Pros
Front and back dual entry
Dual entry allows you to load your dog either from the front or back depending on your preference. This makes it easy to pack your dog and get started running or riding in no time.
Mesh Doors and Windows
Mesh material is used for doors and windows. This allows the breeze to pass through, keeping your dog cool and comfortable. The mesh is ideal for hot days and allows for visibility so that dogs can enjoy the surroundings while they run through the park together.
Size Capacity: Up to 66 Pounds
Medium breeds are usually less than 50 pounds. This means you can use the dog bike trailer even for medium-sized dogs who are slightly overweight.
This model is ideal for Shih Tzus, Lhasa Apsos, Japanese Spitz, and Pomeranians.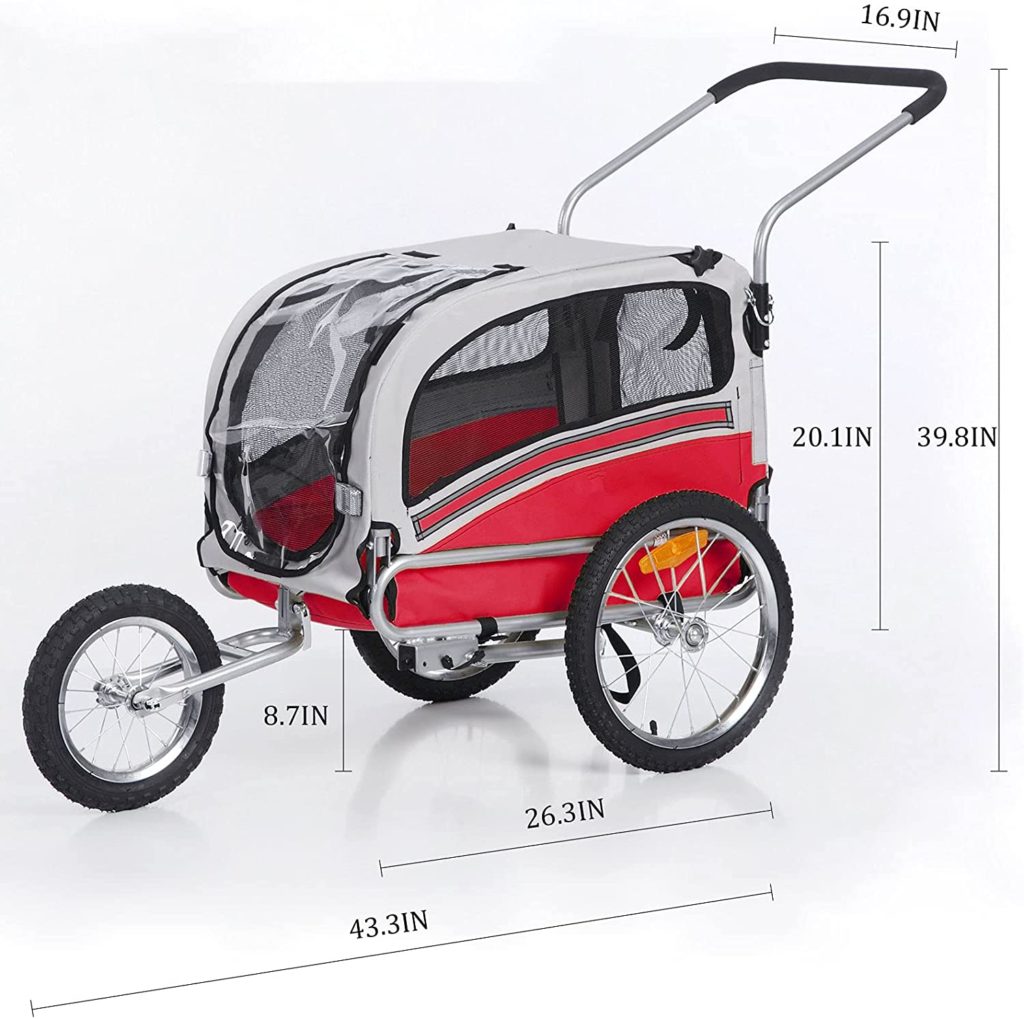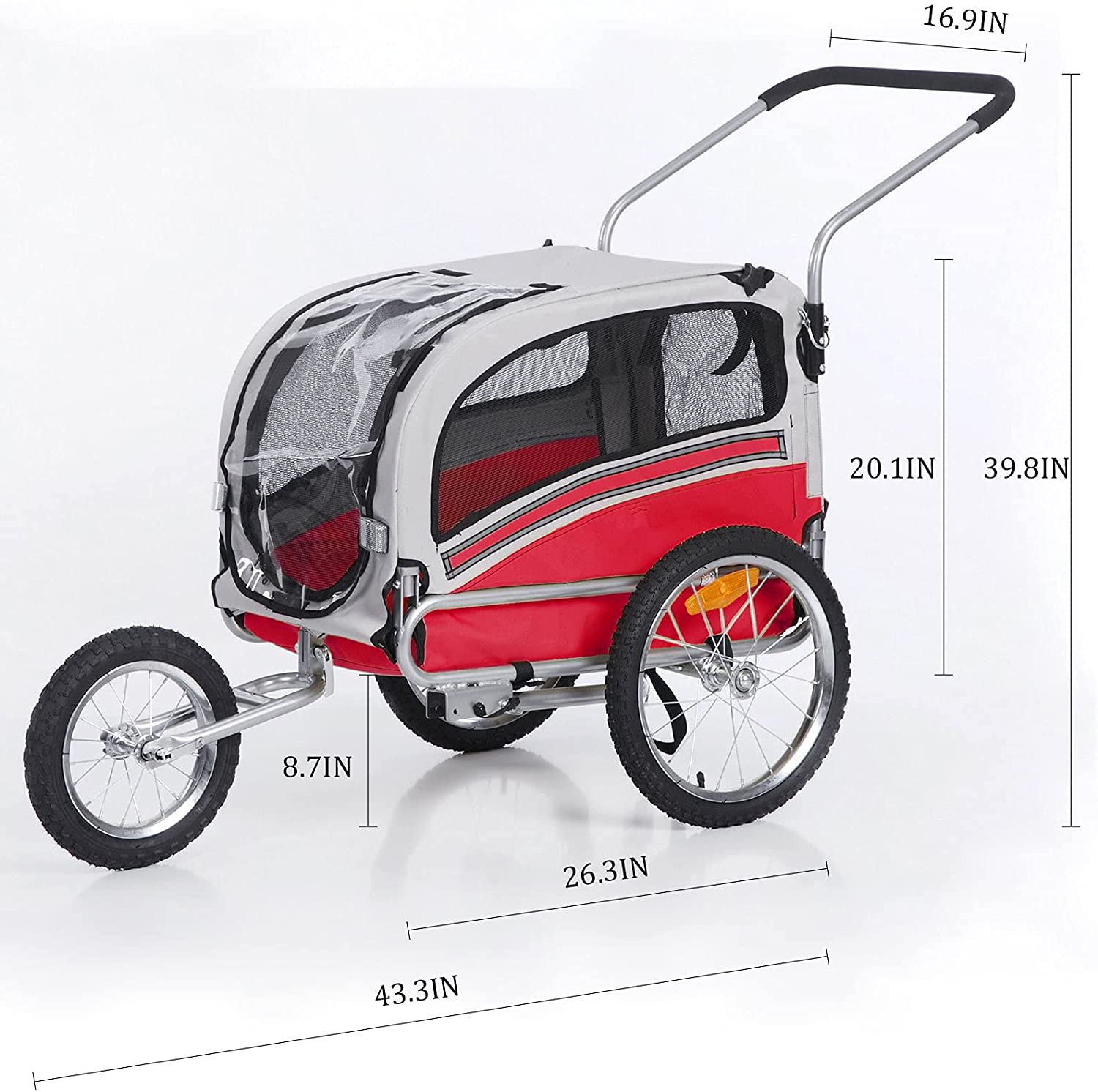 The product's sturdy structure ensures that it can withstand a weight of up to 66 lbs.
You should note that this product comes in several versions.
You can get the Large dog trailer model from the same manufacturer if you have large dogs (66 lbs and over).
Safety Leash
Pet owners with hyperactive pets will appreciate the safety leash that comes with the dog bike trailer. This is to ensure your pet's safety and security. It acts as a safety belt that keeps your dog safe and secure while you are out at the park.
For easy storage, foldable
For easy storage, the product can be folded into a flat unit. This makes it easy to store the product on a car ride or in a small area. The folded piece measures only a few inches wide and can easily be placed in additional spaces within the house. This is especially useful for smaller spaces, as it doesn't take up space. Once you are familiar with the folding mechanism, it is easy to use.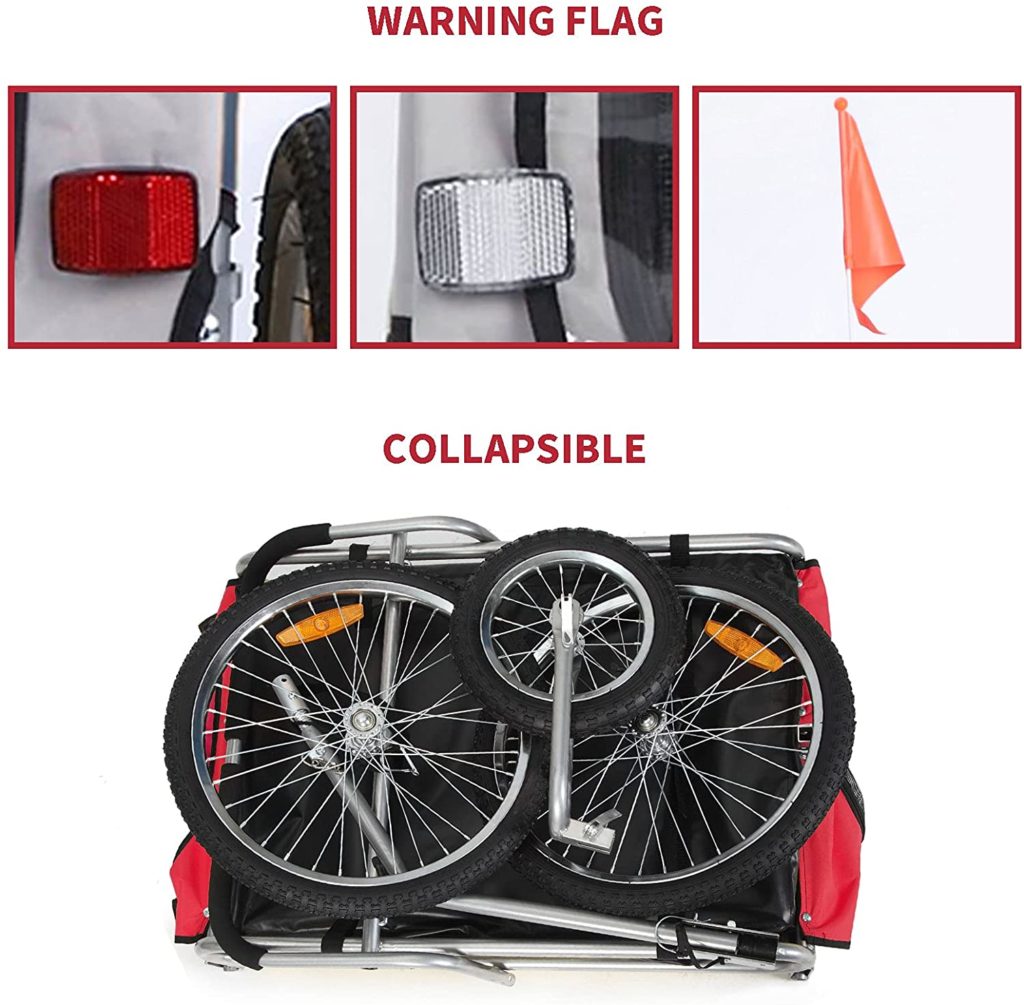 Easy Assembly
You will receive the unit disassembled, but it is easy to assemble. The stroller can be assembled quickly using a variety of instructions. The wheels are not pre-inflated, so an air pump is required to fill them up. You should check the air pressure on the wheels before you go out with your trusted companion.
Steel Frame
The frame is made from steel and is durable. The warranty is for a period of one year. This product was designed to withstand the demands of riding or jogging. It will work well in any situation. It is designed for urban use. The stroller will work fine if it is not used on dirt roads or rugged terrain.
Storage Space
The large and deep storage area at the back allows you to store all the things you or your dog need for a day out. All your dog's essentials can be stored in one place, including water bowls, treats, snacks, and diapers. The storage area is large enough that you won't worry about items accidentally being thrown out. Your dog can rest in the box while you run, and your items will stay in.
Durability of 3-Wheel
This product has 3 wheels. All three are designed to glide smoothly on short grass, sidewalks, and trails. The stroller is not designed for rough terrain. This model is unique in that the front wheel can be locked. This ensures a stable bicycle trailer while you're running, and your dog is safe inside.
Numerous Color Options
You have the option to select from multiple colors. This makes it easy to coordinate your dog trailer's colors. These colors are available
The dog tricycle trailer's mainframe is the same all through, with the exception of the colors.
Bike Towing
This model comes with a built-in tow bar at its bottom. This allows you to attach the item directly to a bicycle and allow your dog to move faster around the park. The dog tricycle trailer is very stable and easy to control because the front wheel is fixed. This particular model is not recommended for high speed.
Cons
No product is perfect. These are some of the issues that have been reported about this unit.
You will need to make more effort to stop the stroller mid-stride as it doesn't have a brake. It is better to slow down and stop than to abruptly break.
The warranty details are not clear. The frame comes with a 1-year warranty, according to the supplier.
The only complaint it can be attached to any bike but the attachment is limited by the bike's size. This model may not work with large adult bikes.
Size and capacity
Two sizes of the Sepnine 2in1 Pet Dog Bike Trailer are available. There are two sizes: The large can hold dogs up to 88lbs and the medium has a maximum carrying capacity up to 64 pounds. These are the dimensions of both models.
Medium Size
Dimensions: 26″x 17.2″, x 20.1″
Maximum Weight Capacity: Medium Seinine 2 in 1 can be used to transport pets up to 66lbs.
Large Format
Dimensions: 31.5″x 22.2'x 26″.
Maximum weight capacity: The Large Size Sepnine 2 In 1 can carry large dogs up to 88lbs
Who should use this dog trailer/roller?
The dog bike trailer is ideal for those who enjoy running, riding, running, and just walking their dog. Most dogs love to walk but small and medium breeds can rarely cover a lot of ground in one outing. A dog bike trailer is a great tool. When your dog gets tired, or if you are moving at a slow pace, grab the Sepnine trailer and bring your pet along.
The trailer's extra weight actually increases the intensity of your workout. This product is ideal for senior dog owners. The trailer is ideal for senior dogs who have difficulty walking long distances. To keep your dog comfortable, a heating or cooling pad can be placed on the bottom. It is affordable and long-lasting, so it is ideal for singles or families.
Conclusion
Pet owners only want the best for their animals. The Sepnine Pet Dog Trailer Stroller is made with high-quality material and priced to make it affordable for everyone. The pet stroller is equipped with many features that will keep your pet happy, including suspensions that absorb bumps while you ride. It can be used as a pet stroller or jogger and easily transforms into a bike trailer without the need for a tool.
Amazon may be a good place to start your search.