From time to time, people like to take their dogs out in a stroller and there is nothing wrong with this
scenario. In fact, there are strollers available that have been specifically created for dogs.
During my own research on dog strollers, I came across the DoggyRide Novel Dog Jogger stroller and here's what I found interesting about it …
If you have a medium to large dog, this is a great stroller for you. It can hold up to 110 pounds.
Super Light:
When you use a stroller, you don't want it to be heavy – you want to push something that is light. With the DoggyRide Novel dog jogger stroller, since it is built on a super light aluminium-alloy frame, you don't have to worry about it being heavy. The total weight of this stroller is 30 pounds.
Safety and Comfort Features:
This stroller also has some pretty interesting safety and comfort features. For the dog, there is a neat head rest cushion in the front opening. On the sides, for safety, there are some reflective strips. There is a fabric and screen mesh that will protect the dog from rain and UV.
Available extras: (Not included With The Stroller)

Pet Mat:
A 2″ thick memory foam mat that absorbs the shock from uneven terrain and softens the ride. The Removable cover can be machine washed.
Bike Conversion Set:
The DoggyRide Novel can be converted from a stroller to a bike trailer using the optional bike conversion kit. The package includes a tow-bar arm, bike hitch and safety flag. Converting the stroller can be done in just a few minutes and is a very simple process.
Extra Bike Hitch:
A solid steel bike hitch that easily attaches to most standard bikes.
Extra Leash Set:
Leash is made of thick Nylon webbing. Ideal to use either as a safety leash within the stroller or to walk two dogs at the same time.
Rain Cover:
Made of clear plastic which allows your pet to have maximum visibility. The two side ventilation flaps  allows your dog to have air flow within the cabin while still being protected from the elements.
Roof Rack:
Multifunctional roof rack that can be used with a tarp, net, carabiner or other accessories. Although it cannot be used while DoggyRide is in stroller mode.
Easy to Assemble:
When you purchase this stroller, it is mostly pre-assembled. Going by directions online, let me give you the rundown on assembling this stroller. All you have to do is take it out of the box, fold up both of the side walls, move the inside cross bar arm that is running along the roof into place and lock it with the silver detent pins that have been included. In a small box, you will find bracket push bar holders – you can install them on the rear frame of the cabin by pulling the slits to the side and screwing in the holders. You can then insert the push bar arm into the holders and lock it into place. After this, all you have to do is attach the wheels and you will be ready to go.
One user shared a tip that i thought was worth mentioning. When unfolding the trailer for use it is best to insert the handlebar first before installing the crossbar, this way the handlebar keeps the stroller in the open position and makes installing the crossbar much easier.
Key Features:
For durability – alloy rims and RVS spokes
Anti slip base – stable and cleanable
Side support – prevents leaning into rotating wheels
Optimal stability – lowered center of gravity
Two section roof-front – for riding pleasure for different breeds
Pouch and water bottle holder in rear
Quick release wheels – for quick conversion
In addition to all of these features, you can use the main cabin for crate training purposes. The cabin will easily fit into the back of an SUV and will come in handy for long road trips.
Customer Reviews:
At the time of writing this article, the DoggyRide Novel Dog Jogger Stroller was rated on Amazon as 4.5 out of 5 stars, so obviously customers are happy with this stroller. Looking through the reviews, we find users posting reviews with words such as "amazing," and "high quality."
Specifications: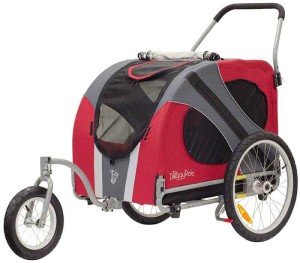 Available Colors: Outdoor Green/Grey & Urban Red/Black
Maximum Dog Size: 26 in/65 cm shoulder height
Cabin Size: 31.5″ L x 21″ W x 25.5″ H
Maximum Weight Capacity: 110 Lbs/45 KG
Stroller Height: 39″ or 41″ Inches (dependant on push handle position)
Stroller Weight: 35 lbs
Folded Dimensions: 31.5″ L x 21″ W x 4″ H
Tire Sizes: Side Tires = 20″ Diameter Air Filled, Front Tire = 12″ Air Filled
Stroller Length: 60in./152cm
In conclusion, if you are looking for a good stroller for a medium to large breed dog, then the DoggyRide Novel dog jogger stroller is a great choice for you. It is easy to assemble, lightweight and built to last.