Many pet owners are in need of a dog stroller at some point in their lives. Pets that are older or injured will need a stroller that is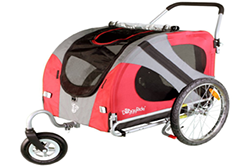 comfortable to ride in during travelling. Pet owners who do not want their dog to get dirty when it is muddy may also choose to put the dog in a stroller. Regardless of the reason behind needing to use a stroller, you want something that is comfortable and easy to handle.
For those who have a dog that is no more than 100 pounds, I would recommend the DoggyRide Original dog stroller.
This Stroller Looks Cool!
Not only is this stroller practical, it is also something we're sure you wouldn't mind pushing around town. When you put your cute little dog in it, this stroller is a cool thing to be seen with. This stroller is very roomy, agile and functional.
It has mesh windows that are non-scratchable, so it may even be suitable to use for cats. The Original dog stroller is available in a black/red color pattern. It comes with a safety flag and leash set. Simply by releasing the pin, you can fold the stroller up.
Since the stroller is only 30.5 inches wide, it is fully capable of fitting through most doorways. It has an upper roof structure that you can unzip in two ways – you can have the front panel open or you can give the dog his/her own personal sunroof.
When you are not using this stroller, you can take the cabin and convert it into a bike trailer (with the optional kit) or you can simply use it as a tent or crate for your four-legged best friend.
Features:
• Folds Easily • Can be used as a crate • Can convert into a bike trailer with the optional set • Sun roof for your doggies • Compact • Suitable for both cats and dogs • Dust and wind cover in front • Continuous air circulation • Eye catching design • Flag included • Designed in Holland – popular in Europe and the United States • Hitch: universal attached to back axle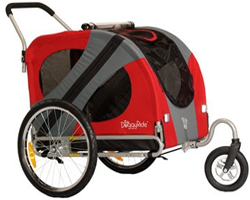 Entry Door Dimensions and Heights:
In case you are wondering if your pet will easily fit through the entry flaps or if the pet will be able to get in and out of the stroller with ease, here are the opening dimensions and heights from the floor:
The front zippered door is 17 inches wide and 23 inches high (at the highest point of the curve).
The lowest point of the front door is 17 inches from the floor.
The rear zippered door is 12 inches wide and 18 inches high.
The lowest point of the rear door is 11 inches from the ground.
Specifications:
Available Colors: Urban Red
Maximum Dog Size: 26 in/65 cm shoulder height
Cabin Size: 31.5″ L x 21″ W x 25.5″ H
Maximum Weight Capacity: 100 Lbs/45 KG
Stroller Height: 39″ or 41″ Inches (dependant on push handle position)
Stroller Weight: 40 lbs
Folded Dimensions: 31.5″ L x 21″ W x 4″ H
Tire Sizes: Side Tires = 20″ Diameter Air Filled, Front Tire = 8.5″ Air Filled
Stroller Length: 56in./142cm
Customer Reviews:
At the time of writing this, there were a total of 21 reviews on Amazon with 4.6 out of 5 stars given. Looking through the reviews, there were a lot of happy customers. Only one customer had a problem and that was because the front wheel sticks out. However, looking through the other reviews, no one else complained about the front wheel. In fact, instead of complaints, I read a lot of positive thoughts regarding this stroller. People have labelled it "amazing," "high quality," "durable," "stylish" and "excellent."
In conclusion, if you are looking for a good stroller, whatever your reason may be, the DoggyRide original dog stroller is a great choice. It is easy to assemble, folds up very easily and is super stylish. Would we recommend this stroller? Most certainly.