From time to time, people want to take their pets with them in a stroller, whether it's due to an injury, recovering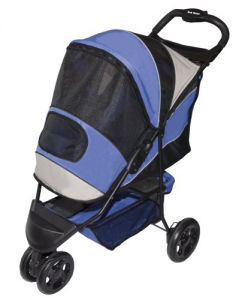 from surgery or simply old age, a pet stroller is the ideal solution to get your furry friend out into the fresh air and give yourself some exercise at the same time.
So many times, pet owners purchase a stroller only to find that it isn't up to par with what they need.
After doing a large amount of research for the best pet strollers, we came across many cool strollers and today, we are going to tell you what we found out in our Pet Gear Sportster Pet Stroller Review.
Easy to Fold
When someone purchases a stroller, they want something that is easy to put away. For example, when you're ready to leave, you want to simply take the pet out of the stroller and easily fold it up. Unfortunately, not every stroller on the block has this "easy to fold" feature. However, with the Pet Gear Sportster you're in luck, because according to customer testimonials, those who use the Pet Gear Sportster Pet Stroller have found that it is easy to fold. That's right, this stroller has a easy one-hand fold mechanism, making it easier than ever before to fold and store the stroller.
Holds Up to 45 Pounds
This stroller can hold up to 45-pounds. You can either place a 45-pound pet in it or you can place multiple pets that add up to 45-pounds in the stroller. The interior dimensions are 26 x 12 x 19.5-inches.
Additional Features
• An internal fleece pad with a tray that is waterproof (every stroller should have one of these)
• Storage basket and a parent tray (great for your pets extras)
• A large protective pet compartment that has a zippered opening (this makes for easy access)
• Interior tether to secure the pet or pets
• Large easy-access storage basket that can be used to carry lightweight items like treats, toys etc
• Parent tray located between the push handle for storing small items and water bottles
• Front locking swivel wheels. Great for jogging or power walking
• Rear shock absorbers give the stroller a very smooth ride
• Rear brakes to lock the wheels
• Strong nylon cabin with a zip entry and mesh panels for easy entry/exit and air flow
• Front double wheels for added stability
Amazon
Amazon Pet Gear Sportster Pet Stroller Review
At the time of writing this review the Pet Gear Sportster pet stroller had a total of 61 reviews on Amazon and they had awarded this stroller 4.5 out of 5 stars. While nearly every one of the reviews was positive, there were a couple that raised some interesting points. One customer stated "It is impossible to zip or unzip it up while I am walking. I have to quit walking in order to zip it up."
Looking through the other reviews left by customers on Amazon, it appears this customer is the only one who had a problem with zipping or unzipping the screen while walking, so it's not that big of a complaint.
Other customers have said, "I like this and use it for my poor dog that has arthritis. It is amazing!" and "Excellent product, fits my 3 very small dogs. The cup holder and under carriage storage comes in handy. It is also very easy to fold and put away!"
With words such as "Awesome," "Excellent" and "Perfect" posted throughout the reviews, it is obvious that this stroller is pretty good.
Pet Gear has a reputation for producing top quality strollers and the Sportster is no exception to this fact. Not only is the Sportster well built it is also pleasing to the eye too.
Specifications
Overall Dimensions: 37″ L x 22″ W x 40″ H
Pet Cabin Dimensions: 26″ L x 12″ W x 19.5″ H
Folded Dimensions: 33″ L x 22″ W x 13″ H
Overall Weight: 17 Lbs
Tire Sizes: Front 7 inch, Back 7.75 inch
Wheels: Plastic/EVA
In conclusion, if you have a dog that is under 45-pounds (or even a couple of small dogs), this stroller right here is a good find. It's easy to use, affordable, has many good customer reviews and is easy to fold up when you're done using it. What more could you ask for in a pet stroller?