After reviewing lots of low cost pet strollers that just didn't make the grade, it came as a nice surprise to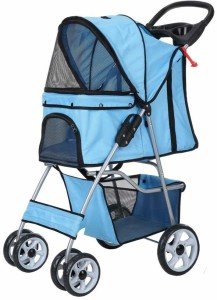 find one that is well built, functional and extremely good value for money.
The Confidence Deluxe pet stroller for cats and dogs scores very highly is an ideal stroller for small dogs and cats. The build quality and materials are on par with some of the more expensive models on the market.
Walk with Your Dog in Style
With four different colors to choose from and a sporty design, this product gives a style of fashion while you are walking with your dog. There is also an accessories tray on the handlebar that you can use for water and treats when you need to keep your pets hydrated and happy.
Aside from the accessories tray, another thing you will definitely like about this product is that it has an easy-fold system that allows you to fold your stroller in an instant. The folded size of the stroller makes it great for transporting in a vehicle and also for easy storage.
So why should you consider this stroller instead of the other ones in the same price range? Well, the one thing you should be aware of is that when it comes to quality and reliability the budget stroller range really is a minefield. As the old saying goes "you get what you pay for" and this is particularly true for the pet stroller market. However, the Confidence Deluxe pet stroller for cats and dogs does seem to be an exception to this rule, providing a quality product at a bargain price. There are more additional features that will definitely make you believe that this is one of the best value strollers out there!
Additional Features We Liked
It has a durable net that allows your pet to access more ventilation and also keeps the bugs out.
It also has convenient front and rear entry points.
The stroller also features a padded, waterproof floor pad that provides easy cleaning and additional comfort for the pet.
It has 6" front wheels and 8" rear wheels to give extra maneuverability and stability.
This stroller was designed to be folded in seconds!
There is also a large basket for shopping, toys, and other items.
The upper tray that spans between the handles gives easy access to water bottles and small items.
You also don't have to worry about your dog running away from you because this stroller has its own built in leash for your pet's safety.
It is available in four different colors: Green, Pink, Sky Blue, and Red.
On Amazon, it has already gained a high rating of 4.7 out of 5 stars.
Some customers reviews:
Super easy to put together and very sturdy
Love the cup holders and the storage area underneath
I really love this dog stroller The price was so much lower on this stroller than ones I've seen in pet stores that I wasn't sure how good the quality could be. It's perfect!
One of the absolute best things I ever invested my money on for my fury baby
As you can see from the exceptional Amazon reviews, this is a top quality pet stroller for a ridiculously low price.
Although, the Confidence Deluxe pet stroller does have it's limitations regarding usage and weight. If you are looking for a stroller that will cope with rough terrain or jogging, you would probably be better looking at the Pet Gear range of strollers. This stroller has not been designed to cope with a lot of weight and off road usage, what it has been designed for is transporting a small dog or cat on an even surface.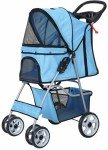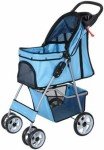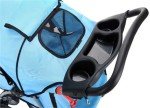 Features: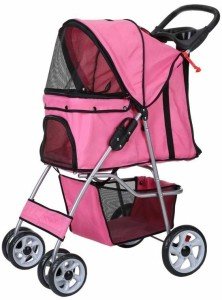 • Convenient double entry through front and rear. • Strong mesh on top front and rear that offers extra ventilation & bug protection. • Removable and washable inner padded pet liner. • 6″ front wheels and 8″ rear wheels for easy mobility. • Easy folding mechanism. • Protective sun canopy. • Large storage basket for your shopping, treats and toys. • Large cup holders and tray on the handle for water and treats. • Built in leash for the pet's safety. • Available 4 cool colors: Pink, Green, Sky Blue, Red, • Foot locking brakes and swivel front wheels. • Lightweight steel frame.
Specifications:
Weight Limit: 25 Lbs Stroller Weight: 10.6 Lbs Stroller Dimensions: 32.3″ L x 17.7″ W x 38.2″ H Folded Dimensions: 32.7″ L x 17.7″ W x 15″ H Pet Cabin Dimensions: 22″ L x 13.4″ W x 11″ H Handle Height: 39.4″