Pet Gear has a pretty solid reputation for producing some of the best pet strollers on the market, and although they tend to be more expensive than some of the comparable strollers, they are very good quality and built to last.
If you intend to use the stroller on a regular basis, you need to understand that cheap, poorly built models have a short lifespan and could see you paying out again for a better built stroller.
The Happy Trails No Zip Pet Stroller is one of the lower priced models in the Pet Gear range and as such does not have some of the features that the more expensive models have. However, this does not detract from the overall functionality of the stroller.
Specifications:
Weight Limit: 30 Lbs
Handle Height: 39 inches
Pet Cabin Dimensions: 24 inch L x 12 inch W x 21 inch H
Wheels & Tires: 6 inch / 6 inch – Plastic / EVA
In this Pet Gear Happy Trails No Zip Pet Stroller Review I will be taking an in-depth look at both the pros and cons (yes there are some) of this popular stroller.
Ok, here we go.
Features:
Fashionable, attractive Dog and Cat stroller
Front suspension guarantees a smooth and comfortable journey
Maximum weight limit of 30 Lbs
Easy one handed folding mechanism
Durable Mesh ventilation windows throughout to stop bugs and supply maximum ventilation
Rain and Wind Guard for protection against the elements
Parent Tray for water and small items
Large Storage Basket for treats, toys, water etc
Front and Rear zippered Entry
Removable and washable Fleece Pad
Easy locking no zip
Features an elevated paw
Design
As you would expect from a Pet Gear stroller, the build and component quality are very good. However, there are a few points that could have been improved upon, for example; the zipper is quite difficult to connect together after it has been completely unzipped and it is quite stiff to operate. If you do think the zipper may be an issue, there is a no-zip model available that uses a clip instead of a zipper.
Another area that could have been improved upon is the rigidity of the front and side areas of the pet cabin, which tend to squash down if the pet stands on them.
Weighing only 13 Pounds the Pet Gear Happy Trails No Zip Pet Stroller is one of the lightest strollers in the range. Having a lightweight stroller offers quite a few advantages, such as making it easier to push and maneuver and requiring less effort to fold and transport.
The one handed folding mechanism allows the user to fold and unfold the stroller within a few seconds, which is great if you don't have the room to store the stroller unfolded or you need to transport it on a regular basis. The sturdy, padded handle is positioned at such a height that it will suit the average sized person. If you are small in height or very tall you may want to check the Amazon reviews to see if anyone has had a problem with the handle position.
Tires & Wheels
As with most of the budget type of strollers, the tires are made from a solid EVA type of material, and although they are not as good as the air-filled type in terms of shock absorption, they do have the benefit of not being susceptible to punctures and are very hard wearing.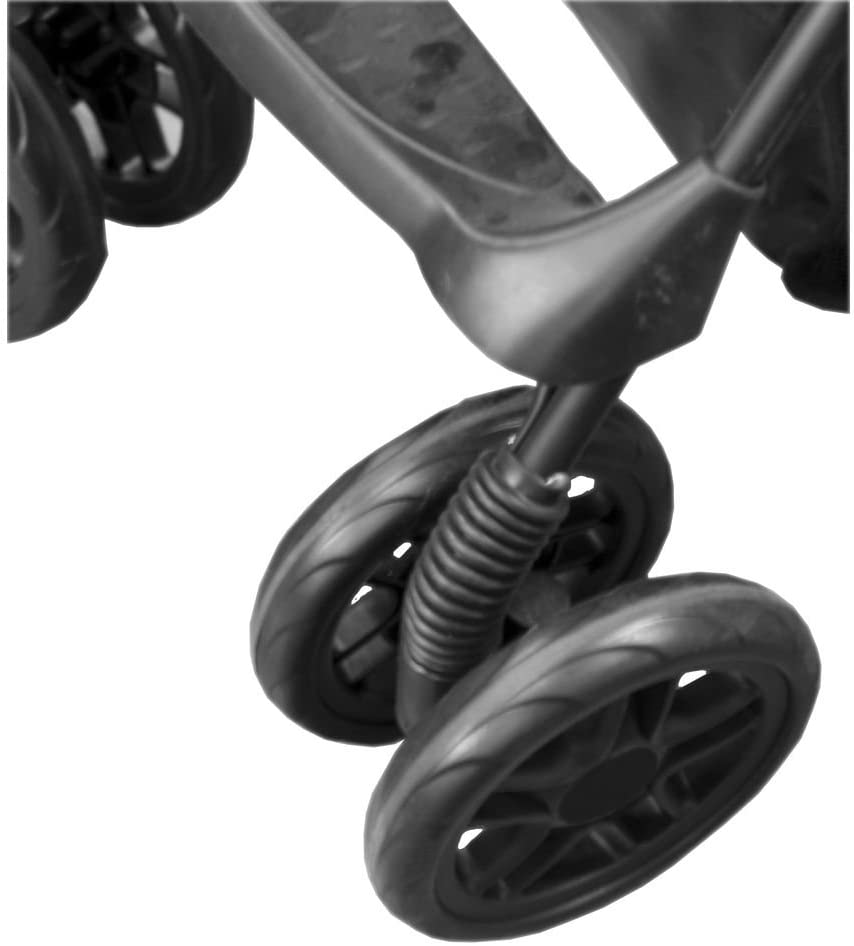 The 6 inch diameter wheels are made from a tough and durable plastic material. These types of wheels and tires are not made for off road or uneven terrain, so if you are planning to use the stroller on these types of surfaces, I would suggest you look for one with air-filled tires and bigger wheels.
Storage Space
The bottom storage area that is located beneath the pet cabin can carry light items such as pet toys, treats, and food.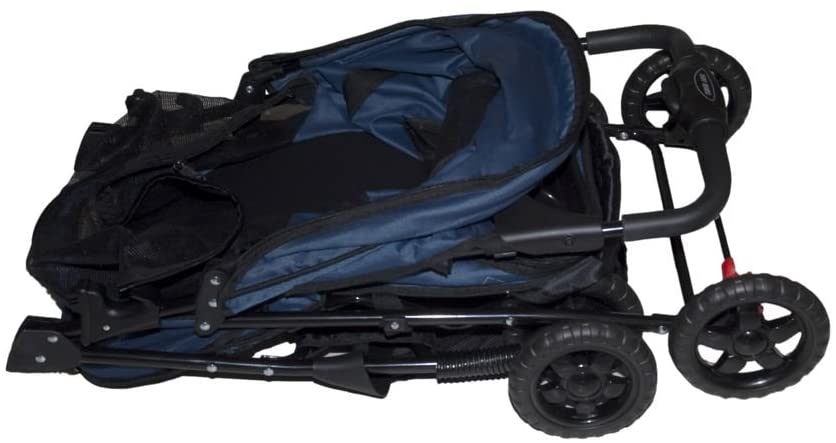 The top storage area that spans between the handles can accommodate two water bottles and has a small items tray.
Safety Features
The Pet Gear Happy Trails has a rear braking system that can be operated with your foot. The internal leash is a nice idea and would have been perfect if it was adjustable. As it is the leash is way too long and allows the pet to hang out of the front of the stroller, not ideal!
Assembly
I have to say that most of the complaints are regarding the instructions or lack of. As with many imported products the assembly instructions are at best useless. Below is a video that may help with the assembly, the quality is not that good but it should give you some idea of what part goes where.
Customer Service
Only too often the customer service side of the pet stroller companies is poor to say the least. However, Pet Gear's customer service is excellent and they will actually help you to resolve any problems you may have.
Spare Parts
Spare parts are another issue to take into account when buying a stroller. Imagine needing to buy a part and not being able to source it from either the manufacturer or the internet, you could end up buying a brand new stroller because of not being able to find a $5 part. Pet Gear stocks and supplies every part for every Pet Gear model, ensuring an extended life for your stroller.
Overall
This stylish Pet Gear Happy Trails Lite No-Zip Pet Stroller is perfect for taking your pet on a walk. The unique no-zipper lock design allows for easy access to your pet. This stroller blends style and functionality.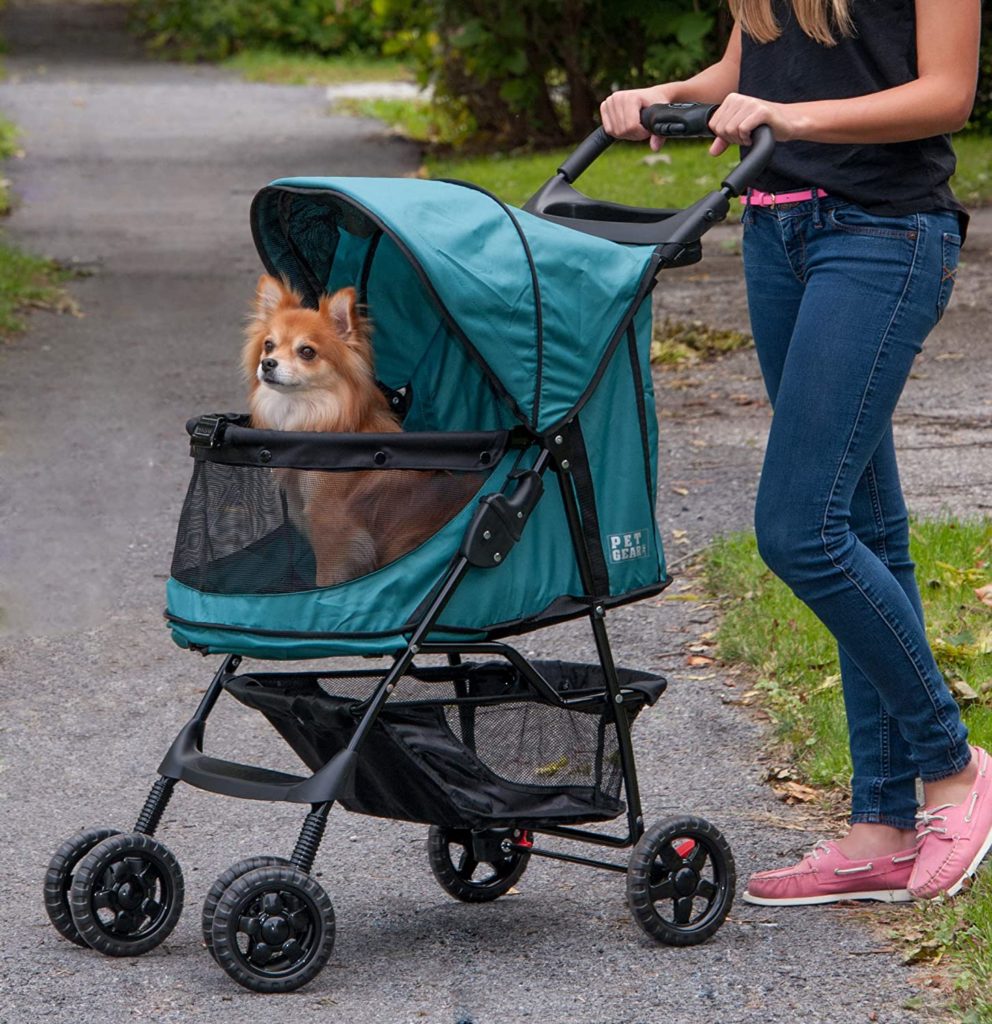 The stroller also has a panoramic mesh window and a paw rest so that your dog can take in the beautiful view. It doesn't end there. The stroller has a large storage container, a raised paw rest, rear safety brakes, front shock absorbers, and a rear safety brake for a smooth ride.
Key Benefits
The stroller features a canopy that locks easily with a panoramic view. There are no zippers so your pet can get in quickly.

Included an interior tether to keep your pet safe while you enjoy the elevated paw rest.

It is easy to clean because it is removable and waterproof.

For those morning or evening walks, rear safety brakes are great and so are front shock absorbers.

It includes cup holders and a large storage bag. The bag can also be folded for easy transport.
In Conclusion
Although the Pet Gear Happy Trails No Zip Pet Stroller does have its faults, overall it is a well designed and built stroller that should give many years of service. Although it has not been designed for off road use, the Happy Trails No Zip pet stroller is ideal for those wanting a no frills machine that works well.