With a variety of trailer/stroller products, Solvit has a practical solution to just about any sort of dog mobility problem, regardless of size or weight, it's called the Solvit Houndabout. Brand PetSafe.
The Houndabout trailer is available in both medium and large sizes and with an aluminum or steel frame. The steel frame version is referred to as the "Houndabout classic" and the Aluminum frame version is referred to as the "Houndabout II" pet bicycle trailer.
In this Solvit Houndabout review I will be covering all four of the Houndabout models. The main differences between the models are listed below under the features and the specs. As for the rest of the review, build quality, design, etc, there are no differences between the model's pet bicycle trailer.
Solvit HoundAbout Bike Trailer Features
Solvit Houndabout II incorporates a light Aluminum frame
Medium size is designed for medium-sized pets of up to 50Lbs
Large size is designed for large pets of up to 100 Lbs
The rear zippered mesh screen layer door
Front door with weatherproof and mesh layers
Sunroof that will allow a dog to stand up
Easily folds and unfolds for transportation and storage
Adjustable internal leash
Houndabout Medium
Houndabout Large
Medium size
Large size
Photo
Pet Cabin
26" L x 17" W x 20" H
33" L x 22" W x 26" H
External dimensions
(including wheels and attachment arm)
46" x 23" x 28" and it folds down to 27" x 19" x 9"
55" x 33" x 33" and it folds down to 34" x 23" x 9"
Weight (with steel frame)
27 Lbs
Stroller conversion kit adds another 7 Lbs
36 Lbs. Stroller conversion kit adds another 8 Lbs
Maximum weight limit
50 Lbs
100 Lbs (with aluminium frame)
110 Lbs (with steel frame)
Wheel Size
16 inches
20 inches
Build quality & Design
With a reputation for building quality products, the Solvit Houndabout models do not detract from this. The build quality is very good as is the overall design.
With a strong, durable frame the trailer/stroller should see many years of trouble free pet carrying and as a testament to this fact Solvit offers a Lifetime Warranty against defective materials and workmanship on these models and a 1 year warranty on other parts. Contact Houndabout for more information on warranties.
It's small but significant features, like the unique axle design that lowers the rear of the trailer for easier pet loading, that make the Houndabout stand out from the crowd. Simple but effective design features are always a sign that the company actually listens to its customer and acts upon the suggestions.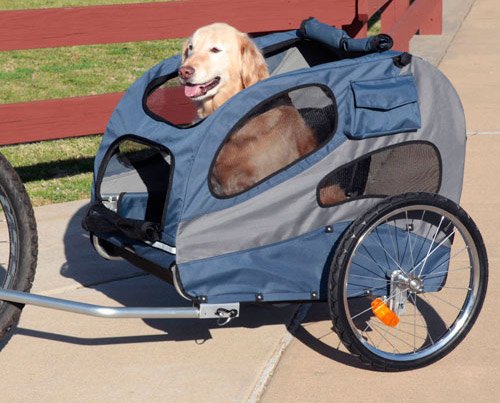 Size and Weight
The Solvit Houndabout medium model is ideal for small to medium size pets and the large version will accommodate bigger and heavier pets.
As always, make sure you measure and weigh your pet before buying. Compare your pet's dimensions against the cabin dimensions listed above. If you are buying the stroller/trailer for a puppy, check out our fully grown weight of a puppy post, this will give you some idea of how heavy the dog will become when it matures.
Entry System and Canopy
To assist in loading your pet into the trailer, the rear door can be kept in the open position by hooking the elasticized loop located at the bottom of the entry door to the loop hook at the top of the door. The rear door should be kept closed when the dog is in transit.
The front of the Solvit Houndabout dog trailer has a double layer window that comprises a vinyl windscreen and a separate zippered mesh screen layer. One or both of these can be rolled up into the open position and secured by the elasticized loop. If you plan on having them both open, make sure to adjust the leash to prevent your pet from escaping through the front of the trailer.
The sunroof can be closed, half open or fully open. Once again the fabric is secured by an elasticized loop and hook system.
The trailer also features a storage pocket on the left-hand side and a bottle pocket on the right. There is also another pocket on the upper rear panel that will hold an assortment of small items.
Inside the trailer/stroller
The floor of the Solvit HoundAbout trailer is not a rigid design, it is made of material with a foam pad over it. However, the material is very strong and shouldn't cause any problems. If you do want a solid floor, cut some plywood to fit and put the pad on top of it.
There is a tether point within the stroller that the included leash can be attached to.
Wheels and Tires
The wheels (Medium size – 16 inches – Large size – 20 inches) are the spoke type, much like miniature bicycle wheels. They are strong, durable, and have the ability to withstand the typical road bumps.
Air-filled tires give the trailer its suspension and offer a smooth ride for your pet.
Towing Hitch
The standard towing hitch will fit most bicycles and can be fitted quickly and easily. If you have a nonstandard big dog bike or frame, there are alternative hitches available. Contact the manufacturer for more information.
Building the Trailer
The trailer can be built within approximately 30 minutes.
Steps:
Attach the bicycle towbar
Attach the wheel mounting brackets and wheels
Erect the cabin
Connect to bicycle
Load your cargo
All of the above steps are covered in-depth in the manual.
Converting the Solvit HoundAbout Trailer to a Stroller
The stroller conversion kit is an optional extra and not included with the trailer. However, there do seem to be problems with the wheel wobbling and vibrating when going faster than a slow walking pace.
The conversion kit includes Handlebar, 12-inch swiveling front wheel, parking brake, and cupholder.
Solvit HoundAbout Pet Bicycle Trailer Advantages and Disadvantages
Pros
Simple to build
Comes in steel or aluminum so that you may select your own weight
Big size holds dogs up to 110lbs. Or greater than 1 puppy
Two entrance points
Folds flat for fast storage
Simple to wash
Mesh screen layer for great venting
Cons
There is no flag included with the trailer, or any place to put one. This may seem a trivial issue but in my opinion the more visible the trailer the better.
The stroller conversion kit has issues with wheel wobble and vibration.
Can It Be Comfortable For The Dog?
As soon as you understand a product is secure, you will need to ensure your dog loves the expertise and is comfy. Luckily, that the Solvit trailer supplies a relaxing and smooth ride to the pet.
Below are a few features that will increase your pet's comfort:
Your puppy will love the sunroof since they will have the ability to see their environment and revel in the sun as you're in your own trip.
The watertight layer ensures that if it rains, then your pet will remain dry.
It features a cozy cushion which can help to maintain your pet comfy. They will feel like they're placing into a soft, luxurious bed as you're on your own trip.
It is roomy. As soon as you pick the best dimensions, your puppy will have the ability to flip around and lie down.
The ride can help them sleep better. Talking of a ride, your puppy can rely on it because of the wide wheelbase and air-filled tires.
The tires feel much more like bike tires, and therefore you don't need to be worried about eloquent plastic tires developing a bumpy ride to your puppy.
It is easy to build. It could be placed together in seconds and folds flat for simple storage. This will cause you to need to utilize it as frequently as you can. It features a hitch for the bicycle which may be attached in only moments.
If your pet appears to have a collision or it simply gets dirty as time passes, the cottage could be cleaned using a sponge.
If you intend on riding in rough terrain, then that really is a fantastic quality that will help keep your trailer looking fantastic.
Conclusion about HoundAbout Trailer
With the option of a lightweight, rust free Aluminum frame the Houndabout II scores higher than the Houndabout classic. Both models are well built and designed but the "classic" is heavier, which means more stress on the engine (you).
Overall, both models score highly and should give plenty of quality towing time with your furry friend.