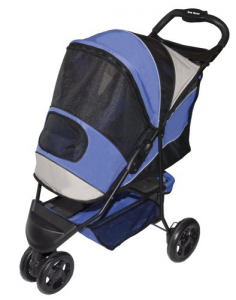 When most people see someone with a pet stroller the majority will assume that there is a dog or puppy sitting inside, it would probably come as a shock to them that many cat owners use a cat stroller to take their beloved pets out with them.
It still makes me smile to see the look on people's faces when they peer inside the stroller expecting to see a dog and come face to face with my two cats, priceless!
Living in an upstairs apartment the lightweight pet stroller is an ideal way to get my cats out into the open air, and they really do love it.
The reasons for using a feline stroller are mostly the same as for those using a dog stroller or puppy stroller.
The cat has been injured or recovering from an operation
Age related conditions such as arthritis
For those who have no garden space
Are fearful of the cat getting run over or catching diseases from the outside environment
Want to provide a change of scenery for an indoor cat
Transporting the pet to a vet's appointment
Whatever the reason, a pet stroller is the ideal way of providing a safe and secure trip out.
Indoor cats can lead a long and healthy life without ever going outdoors, however, there is nothing better than giving your furry friend a little bit of variety by taking it for a walk in a cat stroller. Cats can be trained to walk on a leash, but many owners fear the possibility of the pet being attacked by a dog.
So what's the difference between a cat stroller and your average dog stroller?
Most strollers can accommodate both cats and dogs, however, the smaller strollers that can easily take two or more cats tend to be cheaper, lighter and easier to maneuver, giving cat owners the advantage of a low cost stroller that is easy to fold, store and push around.
Another advantage of the lightweight cat stroller is the fact that the components that make up the stroller will last a lot longer when compared to the heavy strollers that have been designed for medium or large dogs.
If you are concerned about your cat escaping, on most strollers there are internal leash rings that can be used to loosely tether the cat to stop it jumping out. The majority of strollers can also be completely sealed whilst still maintaining a good air flow through a nylon mesh material.
A stroller can also double as a bed for the pet or pets. My two cats both sleep in the stroller and also use it in the day for napping. Just make sure they have a scratch post to sharpen their claws on or they may start shredding the stroller.
So what is the best Cat Stroller?
Well, that is a very difficult question to answer, due to the fact that not all pet strollers are of equal quality. Even though you are transporting a lightweight cargo, if the stroller has been built with inferior parts it won't last as long as a good quality one. If you can afford to spend a bit more on a better quality product, in the long run it will be well worth it.
Just by doing some simple research you can quickly and easily narrow down your choices. Use sites like Amazon.com to compare products and read real user reviews from people who have actually purchased the stroller. Below is a list of points you may want to consider when choosing a cat stroller.
Price – Before looking for any sort of pet stroller you should determine your budget. This will greatly narrow down your choices and leave you with only a few to consider. But, be aware that you do get what you pay for!
Weight Limit – This is not such an important consideration when compared to choosing a dog stroller due to cat's often being a lot lighter than dogs. Although, if you are planning to carry more than one large cat you should weigh them and check the manufacturer's weight limit.
Cabin Size – Once again this is not so critical when carrying one cat but it may be a deciding factor if multiple pets are to be transported at the same time.
Safety Features – These include internal leash rings or straps, lockable braking system and the ability to fully enclose the cabin area.
Stroller Weight – If (like me) you need to get the stroller up stairs or would have difficulty pushing and maneuvering a heavy stroller, this may or may not be an important point when narrowing down your choices.
Rain cover – Are you going to be going out in the rain or snow? If you are, consider the need for a rain cover. Some small pet strollers come with a rain cover, others may need to be purchased separately.
Manufacturer – Some of the more popular manufacturers (in no particular order) are listed below:
Pet Gear
Oxgord
BestPet
Vivo
Merax
Gen7Pets
Go Pet
Guardian Gear
Some other points to consider when choosing a small pet stroller
Easy folding – Does the stroller need to be easy folding or will it be left unfolded?
Storage – Will you need an under-cabin storage area?
Color – Is the color and material pattern important? Strangely, some manufacturers charge more for certain colors, so make sure to check the price before buying.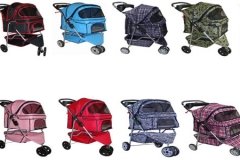 Style – For some, the style and look of the stroller is very important, for others it may not matter. If you compare the two models below you will probably see what I mean.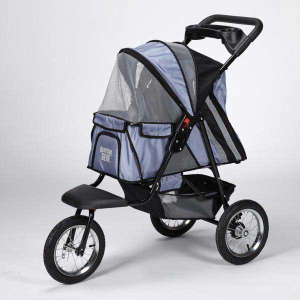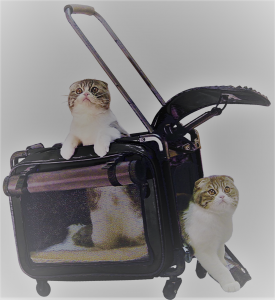 I have the Gen7Pets Regal Pet Stroller and can highly recommend it.
The stroller is a little bit more expensive than some of the others, but for a cat or small dog it is ideal and will meet most peoples requirements, and according to my engineer hubby the construction and quality of the parts is also very good.
There are also many other pet strollers on the market that may well be worth considering. We looked at quite a few before deciding on the Gen7Pets Regal Pet Stroller. However, only you can decide how much you want to spend and what accessories you need the stroller to have.
BestPet Pet Stroller
BestPet 3 Wheels Stroller
Gen7 Regal Plus Stroller
Gen7Pets Promenade
Gen7Pets Monaco Stroller
Color
black, purple, blue, red, pink, leopard skin
black, purple, blue, red, pink
black, black and gold, brown
BestPet Pet Stroller
Color
black, purple, blue, red, pink, leopard skin
BestPet 3 Wheels Stroller
Color
black, purple, blue, red, pink
Gen7 Regal Plus Stroller
Gen7Pets Promenade
Color
black, black and gold, brown
Last update on 2023-09-24 at 00:07 / Affiliate links / Price incl. tax, excl. shipping / Images from Amazon Product Advertising API
Below is a comparison list of the best (in my opinion) cat strollers.
Another product well worth mentioning is the OxGord double pet stroller. The stroller has two pet compartments, which is ideal for cats, small dogs, puppies and even rabbits. Read our full Oxgord stroller review here.