The VIVO Three Wheel Pet Stroller is also available with four wheels. The Specs of both models are exactly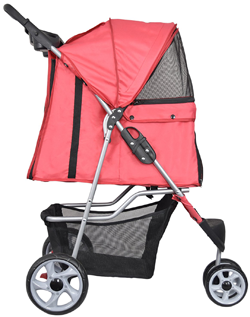 the same, so we will be covering both in this review.
With so many Chinese, generic pet strollers on the market, what exactly makes the Vivo stand out from all the other budget models on the market?  To answer that question we have an in-depth review that will cover all the pros and cons of the Vivo 3 wheel pet stroller and the Vivo 4 wheel pet stroller.
Wheels
Features
Specifications
Check Price
Vivo 3 Wheel Pet Stroller
Comfortable, removable interior Pad


Large Mesh Windows for Air Flow, Bug Protection and Viewing


Folds to Small Size for Easy Storage


Two Cup Holders and Center Tray


Under Basket for Additional Storage


Easy Folding Mechanism
Weight limit: 30 lbs
Exterior Dimensions: 14″W x 27″L x 39″H
Interior Pet Cabin: 13.5″W x 21″L x 20″H
Wheel: Front: 5.5″ – Rear: 7.5″
Folded: 14″W x 32″L x 9″H
Weight: 13.5lbs
Material: Metal Frame, Polyester Fabric
Assembly Required






Vivo 4 Wheel Pet Stroller
Large protective space with zipper access points


Hold any pets weighing up to 30 lbs


Mesh Windows


Collapsible stroller folds up easily to prevent hassle and to save space


Dual cup holders, center tray, and spacious basket underneath
Weight Capacity: 30 lbs
Product Dimensions: 18"W x 26"L x 39"H
Interior Dimensions: 12"W x 19"L x 19"H
Basket Dimensions: 12"W x 16"L x 7"H
Collapsed Dimensions: 34"W x 18"L x 8"H






Price
For most people, one of the most important criteria when choosing any sort of product is the price. The Vivo is slap bang in the middle of the budget stroller price range, which makes it neither cheap nor expensive. However, as with any budget model, don't expect to get the same quality parts as offered by the higher-end, more expensive products.
VIVO 3 Wheel Pet Stroller review
Build quality & Design
The build quality is slightly better than some of the comparable models within the same price range, it's not outstanding, but certainly not bad. The steel frame is sturdy yet light, and the whole stroller weighs just 13.5 pounds, and with a weight limit of 30 Pounds, it is on par with a lightweight child stroller.
The design is similar to that of many other strollers we have reviewed, and apart from the fact that there is a lever in the middle of the handle (3 wheel version only) that allows you to collapse the stroller without bending over it and pulling the release catches up. Other than that, there really doesn't seem to be a lot else in the design department that makes it stand out.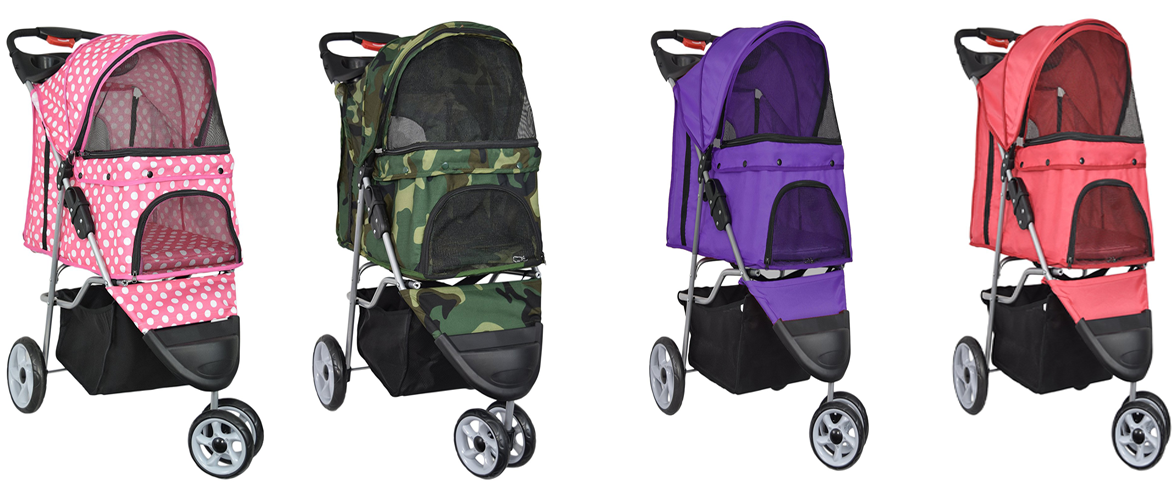 Storage Space
The main storage area is under the pet cabin, it measures 16″ x 12″ x 7″ and can be used to store lightweight items such as pet treats, toys, water, etc. The secondary storage area is a tray and twin cup holder, which is located between the handles.
Wheels & Tires
The two back wheels are 7.5″ diameter, and the front wheel(s) 5.5″ diameter. All wheel rims are made of tough plastic and the tires are foam EVA (Ethylene Vinyl acetate), which is very typical for a budget stroller.
Safety Features
Two leash tethers are included with the stroller, which is great if you have an escape artist or artists. Although, the leashes are non-adjustable and quite short, for small pets they should be adequate.
The brakes on both rear wheels on both the Vivo 3 wheel pet stroller and Vivo 4 wheel pet stroller are the basic, foot operated, plastic cog and pin type found on most budget strollers.
The front wheel can be locked into position, which is ideal if you want to push the stroller one handed or plan to use it on uneven ground.
Interior Cabin & Canopy
Although the material used on the pet cabin and canopy is quite thin, it is still durable and lightweight. This may only be a problem if you have a cat with sharp claws or a dog that likes to nibble on things.
Mesh windows located at the front, rear and top of the cabin are designed to stop bugs, provide good Air flow into the pet cabin and give your pet a clear view of the outside world. The top window has a cover that can be folded back, allowing a clear view of your pet. The rear window/door can be rolled up and secured in the open position with a Velcro fastener.
Inside the cabin is a covered, foam mat that can be removed and washed. The rest of the stroller fabric cannot be removed.
The cabin dimensions are: 21″ (L) x 13.5″ (W) x 20″ (H). As with any pet stroller, make sure to measure your pet or pets before purchasing.
The canopy can be un-zipped and folded back towards the handles, allowing for easy loading and unloading of your pet.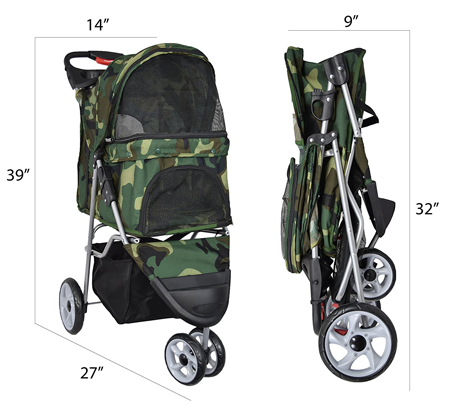 Assembly
Once again, the assembly instructions are very poor, although Vivo have thoughtfully provided a video, which you can view below.
Vivo Three Wheel Advantages and Disadvantages
Pros
Can be folded very easily
Lightweight
Relatively cheap price
Folds to a compact size
Two leash tethers
Lockable front wheel
Cons
No rain cover included
Not designed for Jogging or off-road use
Handle is not adjustable
Zippers are not the best quality
VIVO 4 Wheel Pet Stroller Review
Inspite of how the pet stroller model was created for cats and smaller dog breeds, it even comes built with a spacious interior, detailed with inviting cushioning. At this time, you're able to simply take your pet or dog on you, where you move and let them relax in complete comfort when you run errands, and take them to get a walk at the playground, or even bring them together in the following family adventure. This can be really actually just a crib that's all of it. Owners may simply take their dog or puppy outside for a walk around the neighborhood or love a walk through the playground, by virtue of this stroller's lightweight design that makes it effortless to manage and move. Ostensibly, this stroller has all of the features any pet is searching for, for example, a deluxe interior, plenty of net components to get good airflow, a fast-fold design that makes saving and hauling this version a piece of cake, and a good deal of space for storage, that'll be convenient for all those times if you are out and around.
This version may manage a passenger weight up to thirty pounds, and that means that you are able to bring over 1 cat or dog, provided that you never exceed the maximum weight limit.
The huge sun canopy is ideal for a bright and subtropical climate.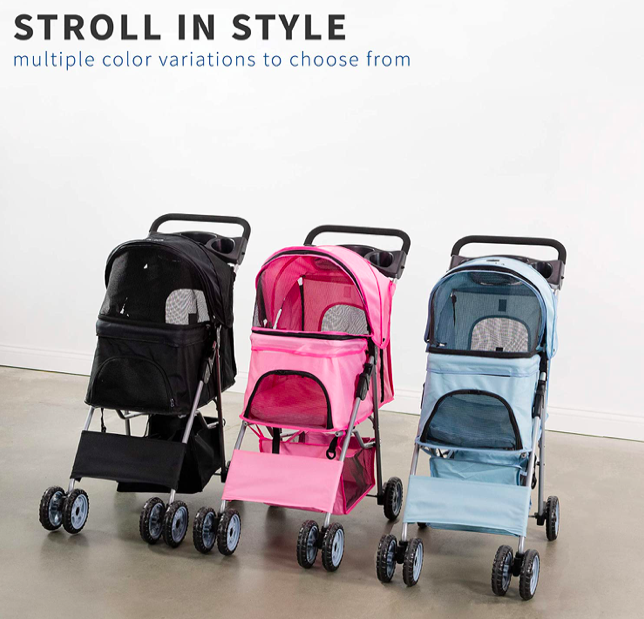 Interior
If pet-parents start looking for that most useful dog running stroller, relaxation is undoubtedly important. The heavily cushioned interior from the VIVO will capture your attention, as would be the countless zipper access points, that are likely to make it a lot simpler to receive your pets out safely. The assortment of access points is also crucial in case you've got an older or injured pet.
The cushioning at the inner is reassuring and won't cause pets into the top. Supportive cushioning is essential for creatures that are coping with an accident, seniors, and pets which are fighting joint-related troubles. Animals with pain need pliers which won't put a strain on the joints or make them sink in the top of bedding because this could make it hard for the furry friend to receive fully right up and down.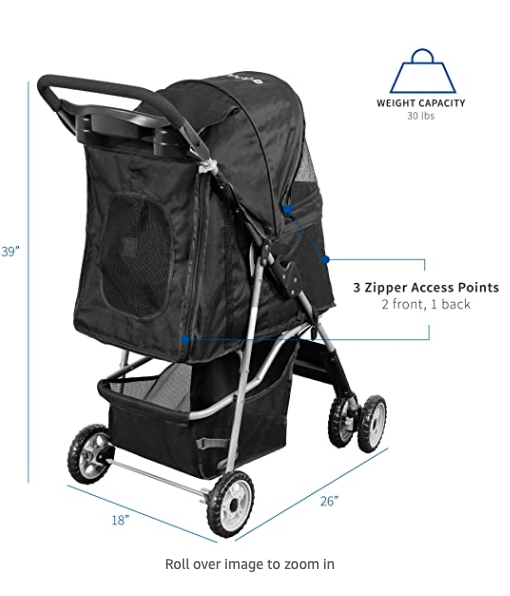 Seniors with gout or other pains and aches may even love the cottage's inviting cushioning and also the skill to extend and curl up, which helps prevent the sort of stiffness that comes from sitting in a crowded space for overly long.
In the event that you want to find out more regarding joint wellness, please drop by and see my advice on the top dog food for joint wellness.
One other crucial feature you are going to want to search for while looking for a stroller would be net window panels. The longer net panels a stroller gets got convenient your furry friend will likely probably maintain warmer weather. This version comes equipped with various mesh panels developed to increase breathability by improving air circulation. Even in the event that you've got down the canopy, to block the sun, your dog will still receive loads of air.
The stroller includes one big rear window along with 2 front windows. Every one of these windows is manufactured out of a fully elastic net, which not just promotes airflow but allows your dog to easily view from their stroller and take in their own surroundings.
It is going to only require a couple of minutes to completely collapse this stroller and also save it at the back of your vehicle or at the rear of your SUV. Even the fast-fold design can be actually just really a significant feature for some owners. To foldall you've got to do is tug a few drops along with the stroller fast folds to a nice compact package. You'll then place a clip in a position which may stop the stroller from unintentionally opening upward. As a way to start the stroller, then remove the clip, then catch the cushioned handle onto the stroller along with pull on and the stroller may click into place in seconds. From the folded position, this stroller could fit into a little closet or back.
Storage
Storage distance is crucial. Pet-parents require a room to put away their gear, shopping totes, purses, food and water to their own pets, and also different kinds of equipment. Luckily, this version comes packed with storage choices. It includes a massive center menu, finish with two cupholders, along with a massive basket directly beneath the knob. This will provide you a lot of room to store more items if you are out shopping.
Wheels
The stroller includes a total of four medium-sized wheels. As the wheels provide a smooth rolling encounter, the stroller must not be employed on dirt, grass, soil, or irregular terrain. On the back wheels, then you will discover two wheels that ought to be engaged once you park your stroller, to stop it from moving away.
Regrettably, this stroller isn't an amazing version. This implies that it will not come armed with all the sort of brakes required for traveling over harder terrain and doesn't include a jolt system. This could make it uneasy for the pets, even in the event you opt to brave uncultivated terrains like dirt trails or buds.
Vivo 4 Wheels Advantages and Disadvantages
Pros
2 Cup-holders
Enormous storage basket
2 mesh dividers for enhanced air flow
Fast fold layout
Effortless to store and transportation
Heavily cushioned inside
Large cottage
Large wheels for easy rolling activity
Cons
Maybe not acceptable for pets more 30 Lbs
Conclusion about VIVO Pet Stroller
What you get with the Vivo pet stroller is a good balance of Quality and Price. What you need to understand is that the Vivo is a budget stroller, and as such, you won't get all the bells and whistles of a more expensive model.
Just by looking at the Amazon reviews, you will see that the Vivo has a good overall rating and some glowing recommendations.
The bottom line is that the Vivo is an average, budget pet stroller that offers nothing new in terms of design and builds quality, however, for this price it is worth adding to your shortlist. The Specifications and Features of VIVO Three Wheel and Four Wheel Pet Strollers are similar. Vivo 3 Wheel model had more color variations and Vivo 4 Wheel pet stroller is a bit bigger, but the weight capacity is the same.